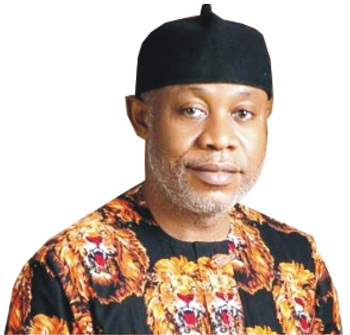 Retired Maj.Gen.Lincoln Jack K. Ogunewe,apart from being the most credible, most qualified and most popular in Imo state among the LP Governorship Aspirants, is also believed to have the capacity to defend his votes if given the LP ticket in an election against Uzodinma.
As the countdown to Labour Party, LP Governorship primary in April 2023 begins, there are indications that the incumbent state governor, Hope Odidika Uzodinma and a former governor of the state,Rochas  Ethelbert Anayo Okorocha are making frantic efforts to plant their candidates to emerge as LP Flag bearer for the November 2023 governorship elections in the state.
It is also reported that  Uzodinma's game plan is to have a "fake governorship candidate" emerge, who would subsequently tactically "abandone the race" by not campaigning to win.
The Okorocha's own intention is to have a governorship candidate emerge who would choose his son in law,  Uche Nwosu as his Deputy governor running mate.
The idea between Uzodinma and Okorocha,  is allegedly to sponsor about eight aspirants for the primaries. As at the last count, four of such aspirants are said to  have bought their nomination forms for the Imo state governorship primaries. Uzodinma and Okorocha are reported to use huge amount of money already set aside to buy up the delegates at the primary.
In all these plans, information has it that the biggest headache facing the duo is allegedly  how to stop Maj.Gen.  Lincoln Ogunewe (rtd) who is said by LP stakeholders, to be the most credible, most qualified and most popular aspirant that would be acceptable to Imo  people. Ogunewe is also said to have the capacity to protect his votes at the governorship elections in November, if he wins the LP ticket.
Ogunewe's popularity is believed to be not only with the teeming youths and "Obidients' but also across all ages and gender of people in Imo state. He is generally believed to be the only one among the contestants who is capable of causing a "ballot revolution" similar to that of Peter Obi that would effectively bring to an end Uzodinma's occupation of the Douglas House, the seat of government in Owerri, the  state capital.
As part of Uzodinma's reported strategy, if none of his preferred aspirants wins the primaries, he would use one or two of them to sponsor crises that may linger in court till the November election, thereby distracting and destabilising Maj. Gen.   Ogunewe, if he eventually becomes the candidate of the party.
Very credible sources have identified at least four persons who are said to be allegedly working on this project for Uzodinma and ex-Governor Okorocha.
It was further gathered through  reliable sources at Government House   that Uzodinma is  allegedly boasting that after giving APC the controversial "landslide victory" during the last saturday(March,18) House of Assembly election, that his next focus is now on the gubarnatorial poll.
On his part, Okorocha is plotting to  use  his son in law as the  Deputy Governorship candidate which would see him bounce back in Imo politics, if his candidate wins.
Political pundits  say that this is like bringing the much hated Okorocha's political legacy back through the back door.
Close aides and some political pundits are of the view that Uzodinma is making this move because he is afraid that if a credible and popular candidate  such as Maj. Gen. Ogunewe (rtd) emerges from LP, despite his manipulations of the House of Assembly elections, he may easily be  booted out of office by Imo voters.
NIGERIA NEWSPOINT