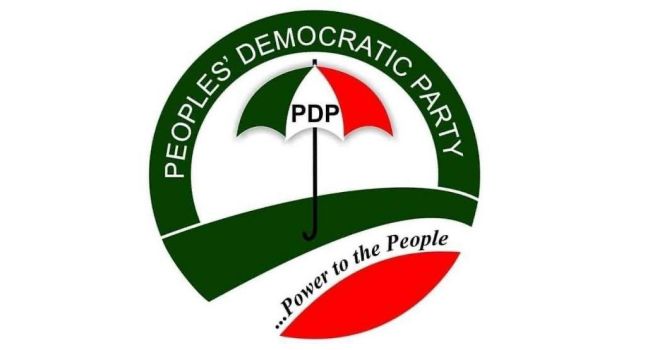 Some candidates of the Peoples Democratic Party in the last Saturday's House of Assembly elections in Imo State have rejected the outcome of the elections in the state.
Briefing journalists separately, the PDP candidates in Nwangele and Aboh Mbaise state Constituencies, Solomon Ucheka and Princewill Amuchie, alleged that the APC candidates surpressed and intimidated the voters.
Ucheka said that in Nwangele LGA, the APC candidate, Amara Iwuanyanwu compromised the process.
The PDP candidate said that he won the lawful votes cast but the APC candidate in company of security agents allegedly snatched ballot boxes and rewrote results.
Ucheka said that he had already petitioned the Independent National Electoral commission and state commissioner of police, Muhammed Berde, over electoral malpractices allegedly perpetrated by the PDP members in the area.
He said that that he would challenge the outcome of the result in court.
Also, the PDP candidate in Aboh Mbaise LGA, Princewill Amuchie alleged that APC rigged the process after using agents to arrest PDP agents at the LGA Collation centre.
He said " This is to bring to your notice and the notice of the entire general public of the brazen and criminal subversion of the will of the masses in the just concluded election for the Aboh Mbaise State Constituency. The election started on a smooth note, by the time election was about being concluded some of the hoodlums employed by the Member representing Aboh Mbaise in the State House of Assembly Hon. Eddie Obinna sent some of his boys to start carting and stealing ballot papers. Among the places where the boys of Eddie Obinna carried ballot papers were Umunebie Hall Ndigbo Uvuru Booth 011 in Uvuru Ward 1, Central School Amuzu, …in the case of Umunebie Hall Ndigbo Uvuru Booth 011 one of the aides of Hon. Eddie Obinna by name Hon. Ogechi Ebegu came to the pooling booth with some cultists, started shooting in the air to scare people away, in collaboration of the Area Commander of the Nigerian Police Mbaise Ngor Okpala Area Command carried the INEC Ad-hoc staff and electoral materials to the Area Command Headquarters of the Nigerian Police Uvuru where the results were rewritten against the wishes and aspiration of the people.In Lagwa Ward with the booth at Group School Lagwa booth 001 a critical look at the result will shoW  APC as bad strategist. The recorded 500 for APC, 100 for LP AND 10 for PDP and they summed this spurious figures to 700. What a miracle.     At the Local Government Collation Centre, where the results were being brought in, the APC stalwarts in the Local Government wanted to smuggle in a result already written by them which they came with."
Responding, the APC publicity secretary in the state, Cajetan Duke, said that the PDP candidates were only complaining after their plot to rig the process was resisted by the voters.
NIGERIA NEWSPOINT