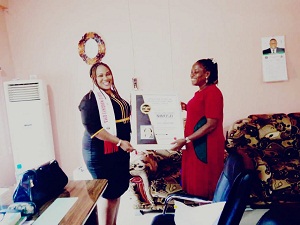 Imo women have been charged to inculcate good morals, social and cultural values in their children for the betterment of the society.
The Executive  Secretary,  Judiciary  Service Commission, Jennifer Nwosu Esq. J P (AICMC), stated this when the Executive members of the  Umuokoma, Iriamaogu, Ihiagwa kindred meeting, women's wing, paid her a courtesy visit in her office.
Hon. Nwosu, who highlighted the attributes of a good mother, charged them to always complement the efforts of their husbands in uplifting their families.
She commended them for their contributions towards the promotion and projection of the Igbo culture, and congratulated them on holding a successful  August meeting,  observing that "the meeting lends itself to new ideas and acquisition of knowledge and also offers the opportunity for dialogue and exchange of ideas".
Hon. Nwosu, who was honored with the title of 'Igolo Nwanyi Oma' by the women, for her outstanding performance in the Judiciary, expressed appreciation for the honor as well as for their efforts in following her achievements and activities in the Judiciary,  and gave the assurances that the award would spur her on to continue the good work.
The Secretary used the occasion to highlight some of her achievements in the Judicial Service Commission and showered encomium on  His Excellency, Sen. Hope Uzodinma, the Executive  Governor of Imo State, for his good work in the State and for his great support to the Judiciary in general and JSC in particular.
Earlier in her address, the leader of the delegation and Chairperson of the Association, Mrs Kate Oparugo, stated that the essence of the visit was to identify with the Executive Secretary and also to present the award to her for her developmental efforts in the Judiciary.
She congratulated her, and expressed the hope that the award would be a source of motivation for her to do more.
NIGERIA NEWSPOINT