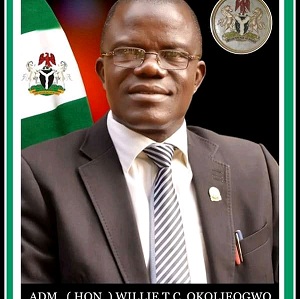 …Says: He runs LGA's without documents
By Williams Odunze
The Chairman of Association of Local Government of Nigeria (ALGON)Imo State Chapter also Sole Administrator for Oru West Local Government Area Barr.Willie Okolieogwo has allegged that the past Administration of Senator Anayo Rochas Okorocha as the Governor of Imo State with his cohorts gang raped the treasuries of the Local Government Areas of the State even as he accused the Administration of running the Local Government Areas without any traceable document.
He made the revelation while interacting with some Journalists who visited him at his office.
The Imo State ALGON Boss informed that he was baffled at what he saw on assumption of office as every where was filled with darkness.
"There is no single record as regards to how the Local Government is run.
Rochas gang raped the treasury of the Local Government Areas.We met nothing but darkness.But now we have brought light, kudos to the Government of Senator Hope Uzodinma for taking bold step to address some of the issues facing the Local Government Administration in the State"he maintained.
Barr.Willie stated that those criticizing the State Government on the State of lmo Local Government Areas are outside the State and not conversant in what is happening in the State.
He maintained that Local Government funds have been judiciously utilised under the watch of Governor Hope Uzodinma.
"There are on going road projects in some of the Local Government Areas of which my own Local Government is a beneficiary.In my own L.G.A,nine out of  ten Health Centres have been rehabilitated with functional boreholes"
He further maintained that the autonomy of the Local Governments in Imo State have not tampered with as the Sole Administrators  meet from time to time to hear from each other and discuss the way forward.
"Though, there is a synergy between the State and Local Government"
On the issue of having elective Executives to pilot the affairs of the Local Governments the Oru West Sole Administrator informed that the process is ongoing that is the reason why the Governor appointed the Sole Administrators that will briefly over see the affairs of the Local Governments pending when ISIEC will conduct the LG Election.
NIGERIA NEWSPOINT