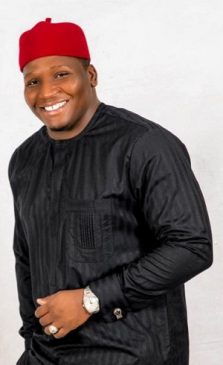 By Moses Ubochi
Even  before he threw his hat in  the ring to run for Mbaitoli/Ikeduru Federal Constituency seat on the platform of the ruling All Progressives Congress, APC, compelling factors had spurred Engr Akarachi Amadi towards embarking on an avowed mission to tackle the nagging issue of  collapsed, poor road network across Mbaike.
And while it is obvious that Mbaike people are in dire need of good roads, it is in fact  trite to say that no other federal constituency in the Imo desires paved and motorable roads at this time, more than the people of Mbaitoli/Ikeduru Federal Constituency.
One can rightly deduce that a correlation exists between bad roads and the ecological challenges facing communities in the area. Opinions are rife that Mbaike naturally situates on an erosion-prone geographical terrain attributable to the fact that about three or more rivers criss-cross her landscape, predisposing her to gully debilating erosion; a development that not only impedes the socio-economic progress of constituents but also threatens livelihood and property in Mbaike communities.
Needless to say that prior to this time, some neighbouring or sister communities in the federal constituency hardly access one another by road.
As at today,  cynics have come  to the consensus that Engr Akarachi Amadi has made  giant strides in his efforts to compliment the good work of Governor Hope uzodinma in providing quality road infrastructure in the Imo, especially, with the recent commissioning of the first phase of the newly reconstructed Owerri-Okigwe road,  as well as the Owerri-Orlu dual carriageway transversing through communities in Mbaike Federal Constituency.
It is on record that Engr Akarachi Amadi has attracted NDDC to intervene in the case of Nkwo Orji-Obazu-Orie Mbieri road in Mbaitoli axis of Mbaike Federal Constituency. Work on the said road has reached appreciable level.
Since charity must begin at home, the APC House of Representatives candidate for Mbaitoli/Ikeduru Federal Constituency, Engr Akarachi Amadi has, via the instrumentality of the NDDC, attracted a number of other road projects that include but not limited to the construction of Eziama-Inyishi road amidst other internal roads his community.
Imagine this statistic: Ochicha-Eziama road has been completed, Ochicha-Nkwodoro-Atta road is ongoing;  Nkwo Orji-Orie Mbieri road is currently ongoing. While work on Eziama-Amakohia road  to commence soon.
Before now it was virtually a herculean task  to connect Ikembra, Ngugo,  among others, with nearby sister communities such as Eziama and Amakohia.
However, It is heartwarming to note that with Engr Akarachi Amadi's intervention,  there has been the construction of a new road with a new bridge across the Mbaa River to  connect Ngugo, Ikembra and other communities on the west side of the  local government.
Consequently, new horizons of opportunities have opened, while glimmers of hope and relief have come for many indigenes and residents of Ikeduru,  impacting positively on the people's economic, social and cultural lives.
For the elated people of Mbaike, Akarachi has already stepped out on the right foot. Such is incontrovertibly settled.
Therefore, given the milestones recorded so far by the APC candidate for Mbaitoli/Ikeduru  Federal Constituency, Engr Akarachi Amadi, in the area of roads.
His Akarachi Foundation empowerment feats demonstrated in free JAMB registration for every Mbaike student,
He has further approved  free five years scholarship for those who scored 200 and above to study in any higher  institution of their choice.
What an uncommon sense of patriotism on the part of this young talent vis-a-vis service delivery.
it is only natural, put differently, commonsensical that Mbaike should expect more democracy  bounties and dividends should they accord him the needed support to set the pace and offer proactive representation of the federal constituency in the National Assembly come 2023. THE TIME IS NOW!
(Hon Moses Ubochi writes from Ikeduru, Imo State.)
NIGERIA NEWSPOINT