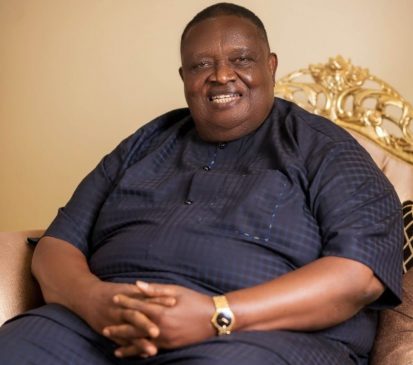 By Jerry Chukwueke
The week-long series of events that marked the landmark 80th birthday anniversary of the living legend, Chief Emmanuel Iwuanyanwu, has all the trapping of a festival.
From far away in the United States of America, I monitored all the events and I kept clapping. Nigerians, not just Ndigbo, showered encomiums on a man who employed his personal resources and attributes to see to the welfare of individual Nigerians but also to the collective interest of Nigeria as a whole.
What we saw couldn't be anything less. For a man who awarded over 10,000 scholarships – 80 per cent for university education – to Nigerians from a cross section of the country, it is difficult to believe that he never held any executive public office, which is the platform on which the majority of Nigeria's mega rich made their fortune.
Sometime in April this year, I came across a media report which had it that Chief Iwuanyanwu sponsored a group of young men from each of the 27 local government areas of Imo state for a special one-year skills acquisition programme. Prodded on by some anxious journalists, Chief Iwuanyanwu explained that the reason why he undertook that responsibility was to give back to society and to provide job opportunities for the young ones. That was a few months before his 80th birthday that has just been celebrated.
To think that a fellow who had made a carrier of public philanthropy from less than forty years of age would at 80, still be bothered about providing opportunities for the youths, is easily the rarest narrative to come by in our clime.
To put the same thing in a different language, I think it is worthy of particular note that even though Chief Iwuanyanwu began his career in philanthropy quite early in life, he grew even more passionate with it as he become older; unlike many who took to it either to gain social or political recognition or attract the attention of those in government but who soon fizzle out when their first tranche of millions gets exhausted.
As one writer recently put it, Chief Iwuanyanwu has shown that he is a "marathon racer" when it comes to public service.  Not just that, Chief Iwuanyanwu's service to humanity is multi-faceted. Besides his involvement in the funding of education for the younger ones and the provision of health care service – through the Iwuanyanwu Education Foundation and the Iwuanyanwu Ambulance – he also took to sports philanthropy; and through it provided great opportunities for hundreds of other youngmen outside formal education.
This he did through the Iwunanyanwu Nationale football club, an offshoot of the Spartans Football club in Owerri which took over from the Imo state government in 1985. Besides that Iwuanyanwu Nationale for more than two decades ruled the soccer waves in Nigeria and Africa, it became the springboard upon which Nigeria gifted the rest of the world with exceptionally brilliant soccer stars. Even though there were also Abiola Babes and Leventis United, from where Nigeria show-cased some of its greatest talents, the two at a point got disbanded when their proprietors could no longer bear the incredibly huge financial burden of the clubs. But not only did Chief Iwuanyanwu keep his club afloat, he sent the players to Brazil for a special training, a move that helped catapult Nigeria's soccer to the continental scene.
In the volume of literature that was churned out by various writers to mark his 80th birthday anniversary words like, "patriot", "detribalized" "bridge-builder" kept resonating; in keeping with the fact that Chief Iwuanyanwu both rendered service to the nation as a whole and offered help to thousands of fellow Nigerians outside his native Igbo land.
But quite interestingly, he beautifully blended his nationalistic trajectory with a total commitment to the wellbeing of his kit and kin in Igboland. Wherever or whenever the name, Emmanuel Iwuanyanwu, is mentioned, the sobriquet, Ahaejiejemba Ndigbo (The Name Which Opens Doors for The Igbo) follows immediately. That is not for nothing.
For in spite of his towering national image, Chief Iwuanyanwu, unlike many prominent Igbo of his caliber, takes everything concerning his people to the innermost of his heart.
Yes, he is detribalized but you would be making a big mistake to think he is another Oka Mma Na Ama (Better Outside), as my people in Owerri would put it. He is not like many of his class who are enamored by national fame at the expense of the wellbeing of their kit and kin at home.
It was through his instrumentality that there exists today the Sam Mbakwe International Cargo Airport in Owerri, Imo State. This he did at a time when the federal government of Nigeria, which has an exclusive right to run airports, kept giving the false narrative that an airport in Owerri and environs would be too close to the one in Port Harcourt for both safety and comfort.
Although the idea of an Imo airport was first mooted during the second republic under the regime of Sam Mbakwe, it remained a should-we or should-we-not thing until 1984 when Chief Iwuanyanwu, enthused by the experience he had garnered while building the Enugu airport a few years earlier, went to the then military governor of Imo state, Brigadier-General Ike Nwachukwu, and asked to be allowed to mobilize the people for the building of the airport. Once he got the nod, Iwuanyanwu mobilized the people of the old Imo state – made up present day Imo and Abia states plus a part of the present day Ebonyi state, for both moral and financial support; quite apart from committing his own personal funds that ran into millions of United States of American dollars.
When the airport was completed, the federal government, which had earlier, as noted, never liked the idea of an airport in Owerri, refused to commission it. But as God would have it for this man of amazing grace, a bosom friend of his, Tonye Graham-Douglas, was appointed the minister of aviation. Chief Iwuanyanwu appointed his friend and he gave approval for the Imo airport to become operational.
But it didn't end there. For even after the airport was commissioned, the Nigeria Airline, the only airways that was giving full passenger services in the country at that time, refused to fly the Owerri route. What did Iwuanyanwu do? He quickly deployed his private jet to the Owerri route to carry passengers and followed it up by acquiring four aircrafts to form the Oriental Airlines, all in a bid to ensure that the Imo airport became fully operational.
It is not complete to write or talk about Chief Emmanuel Iwuanyanwu without referencing on his role as a great political stabilizer. Even though some people mischievously misconstrue his charismatic attitude to politics to mean that he seeks favour from every government in power, the truth is that Nigeria owes the relative stability she enjoys today to a few statesmen like him. Back home in Imo state, he has always played a fatherly role in a polity where overtly ambitious politicians are always at each others' throat.
I heard that at least three books were released on the occasion of Chief Iwuanyanwu's 80th birthday. I believe more will come because the story of Chief Dr. Emmanuel Chukwuemeka Iwuanyanwu will continually be told. Circumstances beyond my control could not allow me to join millions of other compatriots in celebrating this great icon of our time, Chief Dr Emmanuel Chukwuemeka Iwuanyanwu OFR, MFR, CFR – one among the few Nigerians to be conferred with different national honours – and Ahaejiejemba Ndigbo.
This is wishing Dee Emma more glorious days and years ahead.
Jerry Chukwueke
(Ohamadike Ndi Owerri)
Writes from Washington, USA
NIGERIA NEWSPOINT