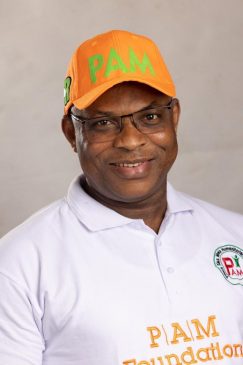 …Says: I've built over 5km of roads with personal funds 
…Hails Uzodinma on Roads
The senatorial candidate of the All Progressives Congress, APC,  for Owerri zone in the  scheduled 2023 general elections, Prince Alex Mbata, urged the people to find out what each candidate has done for his before supporting anyone of them in next year's polls.
Prince Mbata  who stated this Wednesday, during a chat with newsmen in Owerri,  disclosed that he has demonstrated rare patriotism by deploying his personal resources to build roads with streetlights ,both in Owerri and his Obube, Owerri North hometown, including thousands of empowerment to the people of Owerri Zone.
The chief executive officer  of ABM Global Group popularly called PAM, flanked by his campaign director general, Rt Hon Godfrey Dikeocha, Nze James Chinonye and other members of his political structure, said he was  gunning for Owerri Zone(Imo East) Senate seat to have a bigger platform to be able to do more for the people of the zone as according to him, there was a limit to  what he would be able to do for the people with his personal resources.
He charged the media in the state to always insist on facts and balancing their reports, noting that the media play crucial roles,  and remain critical stakeholders and partners in progress  in the task of nation-building.
While doffing his cap for the Imo State Governor, Senator Hope Uzodinma for his giant strides in the area of road infrastructure in the state, Prince Mbata cautioned that excessive negative reportage on the part of the media, could portend dire consequences for the socio-economic development and stability of the state.
On media reports purporting his indictment as then Pro-chancellor of the Imo State University, IMSU,  Mbata explained that such stories were baseless. He disclosed that he gave his best to the development of the university and that when he left,  efforts were made to persuade him to continue.
He harped on the indispensability of character and integrity, reminding that democracy and politics should be issue-based rather than mudslinging and unnecessary name-calling.
He therefore, called for understanding of the media in the efforts of the present administration in Imo to reposition the state.
Speaking also, the Director General of Divine Mandate Campaign Organization, Rt Hon Godfrey Dikeocha said some of the leaders of Owerri Zone saw the need to project somebody who has capacity and visible record of patriotism; this  his said, culminated in the emergence of Prince  Mbata as APC senatorial candidate of Owerri Zone.
The former Imo House of Assembly speaker, who described Mbata as a good man deserving of support, tasked the media in the state to dissect the candidates of the various political parties for Owerri Zone Senate seat with a view to finding out what they have done  in their respective towns and villages in assisting their people.
NIGERIA NEWSPOINT