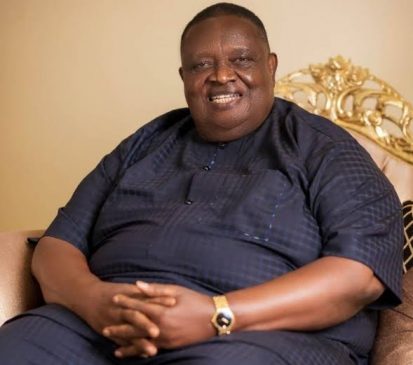 By Williams Odunze
The Association of Ex- Footballers, Imo State, has expressed gratitude to a great statesman and super entrepreneur, Chief Engr. Emmanuel Iwuanyanwu, for helping them to develop and use their football talents to become popular and useful in life.
The ex- international players hinted that the rich impact Ahaejiagamba of Igbo Nation made in the lives of youths across board was quite enormous and wonderful, adding that he practically and fatherly taught them that football is part of life and that one can beat poverty, vulnerability and hatred through football or sports talents.
The group disclosed this through, ex- Iwuanyanwu Nationale player and ex- Flying Eagles player, Mobi Oparaku, ex- Iwuanyanwu Nationale player, Charles Okechukwu Uzo and ex- Iwuanyanwu Nationale player, Isaac Ugochukwu Nbika, in Owerri, on Sunday, during a meeting.
They said they are happy and quite honored to celebrate Emmanuel Iwuanyanwu as he marks his 80th birthday, assuring him of their full support, reverence and love.
Speaking, an ex- Nigerian International player and ex- Iwuanyanwu Nationale player, Charles Okechukwu Uzo, affirmed "Ahaejiagamba is a philanthropist per excellence who has contributed effectively to lift the country and humanity through football. We want to make the whole world know who he really is. We deemed it fit to give him back what he has given to us by honouring his birthday and making it a memorable one for him and his family".
While ex- Iwuanyanwu Nationale player, Isaac Ugochukwu Nbika, noted that the elder statesman is their "Daddy. He is simply good and encouraging. When it comes to football, he leads, others follow. Iwuanyanwu Nationale was the only team that represented the country in international league. He has made many football talents to be useful to themselves and we pray that God keeps him to live up to 150 years or above".
Adding his voice, ex- Flying Eagles player and ex- Iwuanyanwu Nationale player who hails from Owerri, Mobi Opara (MOU), described the football lover as their "father in football who we are so much concerned about his 80th birthday commemoration. Being part of our lives, he has freely impacted so much in youths. When we were kids, he made us to know that anybody who has football talent is a plus to his family. He made us to understand too that football is part of life and can be useful to elevate one from poverty, as well as helps one to be whatever he or she wants to be in life. But he had always said that commitment and hardwork are important for good living".
Mobi emphasized that "Chief Emmanuel Iwuanyanwu supported the growth of football hence he bought Spartans FC from the state government and renamed it to Iwuanyanwu Football Club of Owerri. He has so much interest on youth growth, development and sports. We are so glad to celebrate him. We wish him so much happiness and long life".
NIGERIA NEWSPOINT