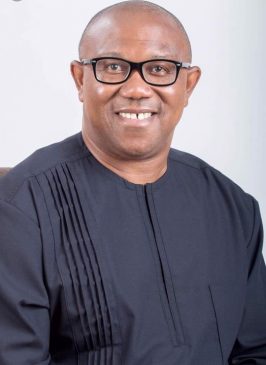 By Onwuasoanya FCC Jones
In an apparent display of frustration and helplessness at Peter Obi's rising acceptability across all tribes and strata of the Nigerian society, promoters of the two opposition candidates; Asiwaju Bola Tinubu and Alhaji Atiku Abubakar, have resorted to planting fake news across social media platforms, with the aim to pass such fake news as coming from Peter Obi's team. This is after they have dug everywhere and sniffed everything and found that Peter Obi is absolutely free of any blemish, throughout his eight years as governor of Anambra State and in his highly successful and multibillion Naira private business investments.
For record purposes, some of the fake news planted recently by these harebrained sycophants are;
AMERICAN MULTIBILLIONAIRE, LARRY ELLISON DONATES TO PETER OBI CAMPAIGN, PROMISES TO INVEST IN NIGERIA WHEN HE IS ELECTED:  It is illegal for foreign nationals or organisations to make donations to candidates in an election and Peter Obi is well aware of that, and while there are many multibillionaires from all over the world who are inspired by the Peter Obi campaign and would be willing to donate generously towards financing its actualization, Peter Obi, as a law abiding Nigerian and strict adherent to rules, will neither solicit for foreign financial assistance nor accept any if offered to him. He is not unaware of the hundreds of millions of Naira already generated by ordinary Nigerians from all walks of life with which they have been propelling his presidential campaign.
PETER OBI TO APPEAR ON CHRISTIANE AMANPOUR SHOW: This piece of badly baked fake news had been severally refuted. While appearing on Christiane Amanpour or any other such highly rated talkshow on international TV channels is on the cards, an announcement to that effect shall be made through appropriate channels. And as at this moment, the only official spokesperson for Peter Obi, and who communicates on his itinerary and other personal issues is Mr. Valentine Obienyem , the longstanding media adviser to the incoming President.
MAYOR OF TORONTO ENDORSES PETER OBI: While there have been unprecedented endorsements from across the length and breadth of Nigeria and beyond for the candidacy of Mr. Peter Obi, those involved in Peter Obi Campaign understand that the most vital endorsements at this time, shall come from within Nigeria, hence, we shall not be in a haste to announce any endorsement from a foreign politician. It is important also to note that there is a clear difference between endorsement for presidential election and when some gives good testimony about the character, competence and integrity of Nigeria's incoming President. We have the latter in good numbers and they come from across the world and from very reliable and respected individuals from beyond the shores of Nigeria and beyond.
ELON MUSK ENDORSES PETER OBI: Elon Musk thinks highly of Mr. Peter Obi. I can tell you that there is no Nigerian presidential who will be able to have a good chat with Elon Musk than Peter Obi. Peter Obi is the only digitally complaint and business focused of the main Presidential candidates and if it were legal, Elon Musk would even come down to Nigeria to lead the campaign for Peter Obi, because Peter Obi's emergence as Nigerian President will certainly open rooms for investments to flow in from across the world, and Elon Musk and other world renowned multibillionaires have been waiting for a perceptive, reliable and honest Commander-in-Chief to set the right grounds for them to plough their investments into the country and help to strengthen our economy and infrastructure. Elon Musk has not and will not openly endorse Peter Obi, but you can be rest assured that by the time Peter Obi is elected President in 2023, there will be an inflow of investments from most of the world's top billionaires and this will create huge job and wealth opportunities for millions of Nigerians.
Let me restate that, because the opposition media lack content with which to promote their candidates, their only resort is fake news and outright falsehoods. It is therefore pertinent to encourage you to only take news coming from official and authorized handles of Mr. Peter Obi and Valentine Obienyem as the most reliable information on the itinerary, speeches and other relevant information for the New Nigeria Movement.
Onwuasoanya FCC Jones is the Director of Strategic Communication, Peter Obi Support Network (POSN)
NIGERIA NEWSPOINT