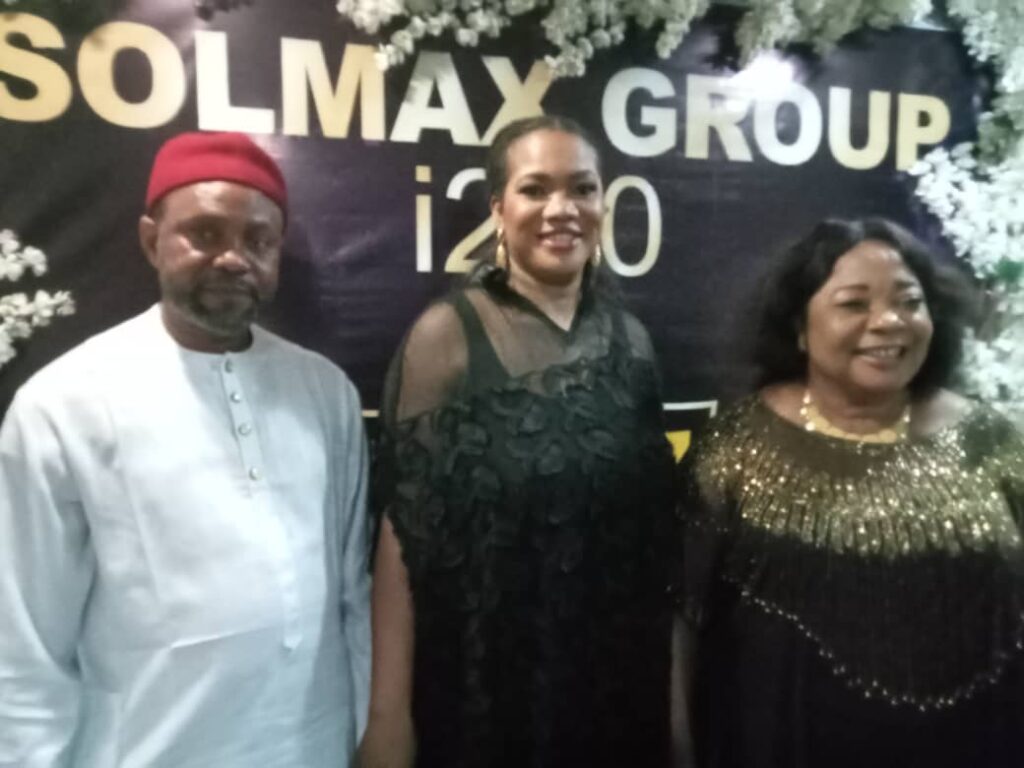 The first Nigerian President of Solmax Group, Engr Mrs Oby Anyehie has called on the Citizens to available themselves the opportunities offered by Solmax Group to engage in digital marketing and networking that would connect them with people and businesses across the world that are capable of changing their  fortune to become rich and comfortable from the comforts of their homes.
According to her, the world has been reduced a global Village where people across the globe can interact and engage in digital marketing of goods and services without physical contact and in the process make huge financial breakthroughs.
Engr Mrs Anyehie made the declaration penultimate Wednesday in a Dinner organized in her capacity as the Nigerian President of Solmax Group, a global networking and marketing group which seized the opportunity of the Dinner to unveil it's migration from Ignate 100 to 200 at Rock view Hotel, Owerri
Engr Mrs Anyehie revealed that by unveiling the Solmax i200,the Group has upgraded from i100 where pounds was the currency of transaction to Dollars which is more universal because it is the most utilized and available currency all over the world in business transaction. She said that through the device of Modern information technology most people have met on line to do businesses and as well build partnership and stakes in Areas of common interests and urged all and sundry to key in to benefit from the bountiful opportunities provided when one joins the Group.
According to her, she was introduced to the Solmax Group by Lady Chiaka Ugworji who approached to come up and take the national leadership of the Group which came into the Country before June 2020 during the Corona Virus Crisis. She said that Lady Chiaka convinced her to get involved since the new Group was in dire need of a competent person with capacity to drive it's program in Nigeria and she obliged as that would help her touch lives positively ,adding that it was exactly what has happened since she joined.
In her remarks, the facilitator of Solmax Group, Lady Chiaka Ugwuorji expressed appreciation to the celebrant and President of the Group in Nigeria, Engr Mrs Anyehie for her magnanimity in accepting the call to join and provide the needed leadership to drive the Group in Nigeria.. She said that belonging to Solmax Group is a gateway to prosperity without stress and called on all and sundry to plan for their retirement cum raining day from now.
Meanwhile, the African Ambassador of Solmax Group,David King has commended the first Nigerian President of Solmax Group, Mrs Anyehie for joining the Group to provide the needed leadership that has transformed the lives of many, adding that instead of monopolizing the opportunities offered through the Group, she has demonstrated magnanimity by making it open and accessible for others to join and benefit as well.
King said that Mrs Anyehie has impacted on so many people, reiterating that her connection was what brought everybody together for the Dinner and unveiling ceremony. He eulogised Lady Chiaka who introduced Mrs Anyehie when they were in search of someone with capacity to drive the Group in Nigeria.
David revealed that members can always withdraw their money from any local bank or anywhere in the world. Amongst benefits one can get from joining the Group include, utilizing membership to market personal products through huge traffic and patronage membership offers,shopping with SMB token in malls and anywhere in world, access to digital currency, plus commissions,bonuses,gifts and Oversea trips. He enjoined all to just key in and begin to learn and not waiting to understand before joining.
Other speakers who held guests spell bound with testimonies and motivations include ,Senior Director Florence from Abuja, Lady Flourish Okorondu, Mrs Edith Osuji, Chief Henry Ekeh, who in their separate contributions extolled the first Nigerian President of the Group, Mrs Anyehie and urging the people to make good use of the opportunity to join the Group and enjoy the divideds of its membership.
Highlights of the event include, unveiling of the Solmax i200 upgrade ,cutting of the Solmax currency Cake and shower of gifts to members as reward. Amongst those that received Solmax gifts include, Lady Chiaka, Chief Christian Mmerem,Dr Mrs Iwu, Hon Mrs Uju Onwudiwe, Chief Henry Ekeh, Mr Tony Anunobi.
The Guests were treated to a sumptuous meals with choice wine and other drinks.
Prominent amongst dignitaries in attendance include, Chief Ambassador Jude Mayor Alajemba, a Lagos business man who flew in town for the program. Others include, Rt Hon Chiji Collins, former Speaker of Imo State House of Assembly, Hon Mrs Josephine Nnoham,SSA to the Governor on Women Affairs and State APC Women Leader, Hon Ifeanyi Abiaekweme, former OCDA General Manager, Hon Gibson Achonwa Njemanze (Oyiga) and host of others too numerous to mention.