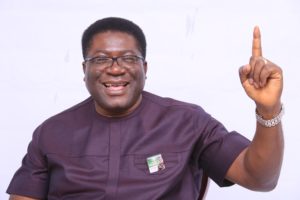 Against the backdrop of the recent reported 'impeachment' of Imo Deputy Governor, Prince Eze Madumere by the State House of Assembly presided over by Speaker Acho Ihim, a legal luminary and Senior Advocate of Nigeria, SAN, Barr Ken Njemanze has approached an Owerri High Court for an order setting aside the action of the Imo House of Assembly's "purported removal of Prince Eze Madumere from office as Deputy Governor of Imo State having not received any report from the panel of seven (7) set up to investigate the alleged gross misconduct by…Madumere.
In Suit No. HOW/662/2018, Njemanze, SAN, who refereed to sections 188(8) and (9) of the 1999 constitution of the Federal Republic of Nigeria (as Amended) to buttress the imperative of the report of seven-man panel set up by the Chief Judge, also asked for "an order of injunction restraining the 2nd and 3rd Defendants from whatsoever manner receiving, or accepting, or acting on any report presented by the 4th Defendant and the panel of seven (7) members set up to investigate the alleged misconduct of Prince Madumere as Deputy Governor".
Other prayers of the former Imo Attorney General and Justice Commission include a declaration that the appointment of the seven-man panel by the Chief Judge to investigate the allegations of gross misconduct made by the Imo House of Assembly against Madumere, is invalid, unconstitutional, null and void.
Njemanze also asked the court to declare that further steps taken by the Panel or any other body is invalid, unconstitutional, null, void, even as he asked for an order setting aside the panel of seven as members to investigate the allegations made against prince Madumere by the Speaker and Imo House of Assembly as well as an order setting aside any purported reports of finding or the seven man panel.
Meanwhile, Barrister Njemanze has alleged that some members of the state assembly may have been induced with the sum of N5,000,000 in respect of the impeachment of Madumere but were believed to have turned down the offer.