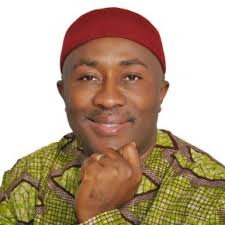 A governorship aspirant on the platform of the All Progressives Grand Alliance, APGA, Hon. Uche Onyeagucha has expressed satisfaction with the action of Mbaise sons and daughters for what he described as their courage and resilient spirit in rejecting to bestow an honorary chieftaincy title on the Chief of Staff to Imo State governor and son-in-law, Chief Uche Nwosu at this year's Iri-Ji Mbaise festival.
According to Onyeagucha, "Governor Okorocha and his in-law, Uche Nwosu do not deserve such honorary chieftaincy title".
"In Igbo ethnology, chieftaincy titles are only conferred on people of high reputation and dignity with selfless disposition". Onyeagucha's statement which is contained in a press release issued on Tuesday, and signed by his Chief Press Secretary, Mac Donald Enwere further noted.
"Honouring Governor Okorocha and his in-law with such a highly respected chieftaincy title is an indirect way of coronating impunity".
The former aide to Governor Okorocha accused his former boss of allegedly showing "total disrespect to the traditional institution and cultural heritage of the people".
Onyeagucha recalled that "it was the same Governor Okorocha who caused the crisis that disrupted the 2014 Iri-Ji Mbaise festival at Chioma Ajunwa stadium, Ahiazu Mbaise".
He queried whether it is not ironical that today the same Governor Okorocha is surreptitiously seeking for a conferment of honorary chieftaincy title on his son-in-law, Nwosu at this year's edition of Iri-Ji Mbaise. He also thanked Mbaise people both home and abroad, Ezuruezu Mbaise and some eminent traditional rulers of the area for not allowing themselves to be hoodwinked into alleged antic to ridicule this year's Iri-Ji Mbaise.