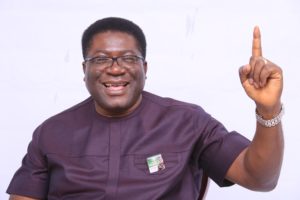 Reports emanating from some government sources have alleged that the embattled Deputy Governor of Imo State, Prince Eze Madumere, weekend escaped food poisoning.
It was gathered that the narrow escape happened few hours after he raised  alarm that his life was in danger following the sudden withdrawal of his security details after an aborted impeachment process against him said to have been initiated by the governor, Owelle Rocha's Anayo Okorocha.
According to impeccable government House sources the plot to silence the deputy governor was allegedly hatched by some aides of government to put a permanent stop to his ambition to occupy the Douglas House in 2019.
According to multiple sources, Madumere was said to have obtained intelligence report directing him to avoid any food that would be served on him by his domestic staff.It added that the intelligence revealed that in a bid to silence him some individuals were alleged to have contacted some individuals close to one Ibezim as well ad one Stella said to be Madumere's domestic staff, with a view to inducing them with money,allegedly to the region of N10 million to carry out the heinous act.
It can be recalled that last week,Prince Madumere had cried out loud telling the public of plans by some desperate politicians to assassinate him, adding that part of the plot was using security operatives as well as other individuals close to him to execute the plot.
Considering the weighty nature of this allegation, our correspondent made spirited effort to contact the State Police Public Relations Officer for inquires but was unsuccessful as his telephone could not be reached as at Press time.
Nigeria Newspoint recalls that there was an attempt late last year to kill him through another domestic staff who was also comprised with some cash reward to set his Owerri official residence on fire.The news went virile and yet the Police has made no arrest up till this moment.
There was a failed attempt to impeach him by the Imo State House Assembly,but it was stalled by a Court Order.