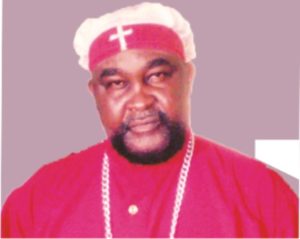 Revelation from Imo State born Prophet King Skarry Mongo has stated that Governor Rochas Okorocha's son inlaw, Chief Uche Nwosu will not emerge victorious in 2019 governorship election in Imo State if the All Progressive Congress (APC) gives him their ticket.
Prophet King Mongo who spoke to Nigeria Newspoint after his recent breaking of protracted praying and fasting for a peaceful free and fair elections in the State and the entire nation, stated that Imo State will recover from of economic recess shortly after the 2019 general elections which will enthrone a New Face administration.
He called on all Imolites to relax as God has heard their cries, and also started repositioning things, such that by 2019 polls it will be a total recovery of lost glory which will bring in wealth, peace and joy because the insensitive reign of the All Progressive Congress (APC) government led by President Mohammadu Buhari and Governor Okorocha will be put to end.
According to the Prophet who is also known as Spiritual Lion, the masses should be alert, so as to help forestall the grand plot to make the inlaw of Gov. Okorocha to be the State Governor come 2019, that it is a mere dream which will never come to pass as it is written in the Holy Bible "that this affliction shall never arise a second time".
He advised the Rescue Mission governor and his inlaw, Chief Nwosu to stop spending their money because after 2019 general elections there will be a total turn around and the recovery of loots.
Prophet King Mongo wondered why the state government compelled taxi drivers to register cabs with sixty one thousand naira, adding that the demand that traditional rulers should pay the alleged N6 million in order to retain their stool is an aberration before the Lord who instituted the stool.
The Imo born spiritual lion urged the traditional rulers not to give the state government any money because if they pay the said sum they will not retain their throne.
In his words "this is the word of God of vengeance, I call on all pastors, politicians of goodwill, co-spiritualists to see this as a total act of open criminality against their people which will send many to untimely grave.
He further revealed that government is now employing people to gather information for her via drivers of various taxi plying the state routes.