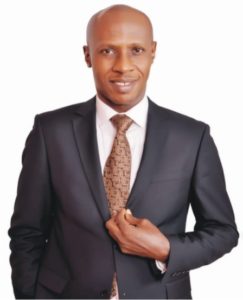 A House of Representatives aspirant for Nkwerre/Isu/Nwangele/Njaba Federal Constituency in Imo State, Barr Kelechi Solomon Nnadi says one of his missions in 2019 the federal constituency considered as one of the largest in Nigeria gets another federal constituency if he is elected into the National Assembly.
Speaking with journalists in Owerri, the Imo State capital, Barr. Nnadi, who hails from Umuokpoko village in Isuokporo Autonomous community in Isu LGA, said he would ensure that either by judicial savvy or legislative mandate, his a new  federal constituency is created out of the consituency because it had been in existence since as of 1979 and 1983.
"I could remember that in 1979 and 1983, this federal constituency had two federal constituencies known separately as Isu federal constituency and Nkwerre federal constituency despite being in one local government then with 19 state structure. Today we have 36 state structure with more federal constituencies created in many states. But instead of multiplying or giving us more federal constituencies, we are surprisingly joined together to form one of the largest federal constituencies in Nigeria.
"So, if and when I'm elected in 2019, one of missions will be to ensure we get another federal constituency from the current one and restore the former Nkwerre and Isu federal constituencies", he said.
The House of Representatives hopeful, who is contesting on the platform of the All Progressives Grand Alliance (APGA), disclosed that his decision to run on the party ticket was divinely directed.
"This is because before I do anything, I go to God in prayers. When I joined APGA, some people expressed fears that the party was just a movement, but since we've toured all the four local government areas and their wards and with the kind of momentum the party has generated today in the state, many have now seen the reason to believe that APGA is the party that will win the next elections in Imo State because the people are yearning for APGA. And APGA is the party to beat today in Imo State", he said.
Nnadi who had contested the same position in 2011, "I contested this same position with Juliet Akano who was then the incumbent and some other gladiators under PDP like Chuma Nnaji and Jones Onyereri who later emerged the winner. I lost that election because the shenanegans of that time refused that the election be transparent fair and free.
"This time around, on the platform of APGA, which is the leading party today in Imo State, I'm running for the same position. So far, my campaign is going on successfully and with what we're seeing already, if I emerge as the party's flag bearer, I'll win the election resoundingly and be in Abuja to represent my people".
While boasting that he remained the candidate to beat in the election because of his restoration programme, the lawyer maintained that he remained financially and morally equiped for the challenges.
He therefore called on the people of the constituency to join hands "to rescue this state from the draconian rescuers. I remember when Rochas came on board newly, he came with the mantra, Rescue Mission. But today, we in Imo are trying to rescue Imo from Rochas".