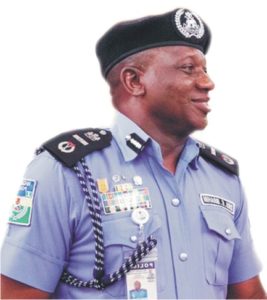 IGP
The International Federation of Women Lawyers, FIDA has dragged the Inspector General of Police, Idris Abubakar to court over alleged abuse of the fundamental Human Rights of an 9year- old, Master Chinecherem Owuamalam
He was detained at the Imo state command for over two years without trial, he is now 11years.
Human Rights Activist and lawyer representing FIDA in the matter, Barr Euphemia Eleonu who disclosed the filing of the suit to journalists in Owerri on Monday said the police abused the rights of the minor by clamping him into detention at age of nine (9) and held him for two years without taking him to court or filing charges against him.
According to her, Master Chinecherem who hails from Mbaitoli LGA was alleged to have murdered one Mrs Oguoma whom he was staying with when they went to farm.
The Lawyer stated that the minor who was nine years old and in primary four when the incident occurred was arrested and taken to Nwaorieubi Divisional Police Station from where he was transferred to the state command and dumped without any further action taken on the matter by the police.
Barr Eleonu who also revealed that the Imo State Police Commissioner, Dasuki Galadanchi and Divisional Police Officer DPO, Nwaorieubi were  joined in the matter, further revealed that FIDA immediately took up the case of Master Chinecherem when its attention was drawn to it by a good spirited Nigerian.
The Rights Activist disclosed that FIDA soon after that, filed an application for his bail which was graciously granted by the court .She added that the body was back in court to seek redress for his fundamental rights abuse.
While describing the police action as a reckless impunity which should be condemned by Nigerians, Barr Eleonu revealed that no single charge has been filed against the young lad, for two years now, even as she moaned that since FIDA took up the matter that nobody, including the police has brought any charge(s) to the court.
She called on the judge handling the matter to ensure that justice is done in the matter by making the police answer for its impunity even as she noted that there may be other poor Nigerians suffering the same fate that befell Master Chinecherem. She pointed out the excesses, recklessness and lawlessness of the police and other security agencies in the country is becoming very alarming.
But, reacting to the allegation, Imo State Police Public Relations Officer, Mr Andrew Enwerem said the police acted on the order of court.
He disclosed that the court had ordered that Master Chinecherem be kept in custody, since there is no juvenile reformation centre where minors accused of crimes such as murder could be remanded in the state. The PPRO pointed out that the court has the right to make such order.
He stated that there is nothing abnormal about Police compliance to such order, as far as it emanated from the court.