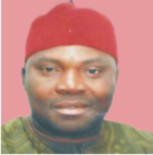 Nwoke
Thousands of members of All Progressive Congress (APC) in Ezinihitte Mbaise Local Government Area of Imo State trooped out en-mass on Monday to witness the inauguration Ceremony of the LGA executive ward chairmen and ward executive of the party.
The ceremony which took place at the premises of the LGA chairman of the party in Ezinihitte Mbaise Chief David Eze Nwoke in Owutu autonomous community was the mother of all inauguration so far in Imo State because it offered an opportunity for prominent persons in the area to join the party including Chief Okechukwu Ogu.
Speaking during the ceremony Chief David Nwoke urged the LGA executive, ward Chairmen and Ward executives to embarked on adequate mobilization, programmes and projects that will create awareness of the party, adding that purpose of the inauguration of the new executives was to strengthen the party at ward to LGA level in the area to enable the party achieve its aim and objective come 2019 general election,
Chief Nwoke stressed the need for them to create room for people to join the party and not to accommodate those the party have sacked in order not to destroy the image of the party, pointing out that the executives has role to play towards the growth of the party especially on the area of educating people about the activities of the party and to vote APC come 2019 general election in all the elective positions.
Nwoke made them to understand that the lingering battle of who occupy the position of the state chairman of the party is over as the National working committee of the party has confirmed Dr. Hilary Eke as the authentic state chairman of the party and it has been published in daily newspaper, noting that Ezinihitte Mbaise APC is solidly behind the state executive of the party led by Dr. Eke.
In her speech the LGA women leader of APC in Ezinihitte Mbaise, Mrs. Augustine Ugochukwu urged women to be focus and steadfast with the party and made it clear that women has role to play in politics especially on the area of mobilization and promised to use her position to ensure that APC win all the elective position come 2019 general election.
The state Deputy Youth Leader of APC Hon. Chukwuma Onuoha expressed confidence that the LGA executive led by chief Nwoke will deliver APC in Ezinihitte Mbaise and urged members of the party to be mindful on the type of meetings they attend and shun anti-party activities.
The Ward Chairmen include the following; Amumara Ward, Onyekachi Onwubiko; Itu Ward, Echeji Victor; Onicha Ward I, Amanze Peter; Onicha Ward II, Sampson Dibia and Onicha Ward III, Nze Michael.
Others are; Onicha Ward IV, Jonas Okeahialam; Ihitte Ward, Ekeh Zico and Oboama na Umunama, Romanus Onyelor.
The rest are; Chokoneze/Ife/Akpodim, Athan Njoku; Udo na Obisi, Atulegwu Ukpabia; Okpofe Ezigbogu, Kinsley Nze and Eziudo, Osuagwu-Ngozi .A.