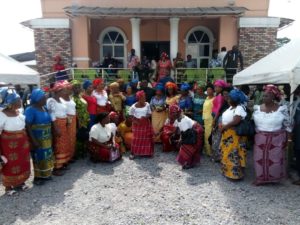 No fewer than 2000 Mberi women with their traditional rulers, last weekend besieged the country home of Prince Eze Madumere, the Deputy Governor of Imo State in solidarity and support to his political ambition, come 2019 as they described him as most qualified for the plum job.
The leader of the women, Lady Magreth Oparaugo said the purpose of the visit is to re-affirm their unflinching support to Prince Eze Madumere.
Lady Oparaugo said Madurmere's devoted leadership style, humility and loyalty has endeared him to many as she encouraged all Mbatoli women to support this great son of Mbaitoli.
"We have a great son in Madumere, I am appealing on Mbaitoli people at home and in diaspora to support this great son. He is over-qualified for the job". Lady Oparaugo maintained.
She kicked against double standard, gossip and backbiting, adding that Mbaitoli has all it takes to clinch the number one position in Imo State.
The leader of the group said Madumere's unequalled and unparalleled humility and loyalty have taught them that good character is a good virtue, pointing out that God has set aside the position for an Mberi son.
Lending her voice, the vice-president of Mberi women, Mrs Ada Okorie advised Mbatoli people to support the vision as she described Madumere as a worthy son.
She pointed out that Madumere is fit for the position, adding that his credentials surpass others jostling for the position.
In his remarks, Chief Marcellinus Nlemigbo, an APC chieftain in the state and a great son of Mbaitoli described Madumere as a philanthropist who has helped and encouraged so many.
According to Nlemigbo, Madumere's humble beginning allows him to add value in the lives of people, pointing out that Madumere is a better bet for Imo people.
Reacting Prince Eze Madumere thanked the women for the solidity, and harped for peace and unity among the women.
He said his ambition is borne out of his passion and love to make a positive change for the future generation, adding that his philosophy is always to teach people how to fish and not giving them fish.
The Deputy Governor admonished the people to pray for those in leadership position, especially Governor Rochas Okorocha.
Prince Madumere declared that his destiny is in God's hand, pointing out that nobody will change it, as he encouraged the people to have faith in God.
"We have a big God and the gate of hell shall not prevail. Though faced with challenges and betrayals, but in the mist of all these, we will come out successful. I have seen insults, betrayals, though weeping may endure in the night, but joy cometh in the morning" Madumere echoed.