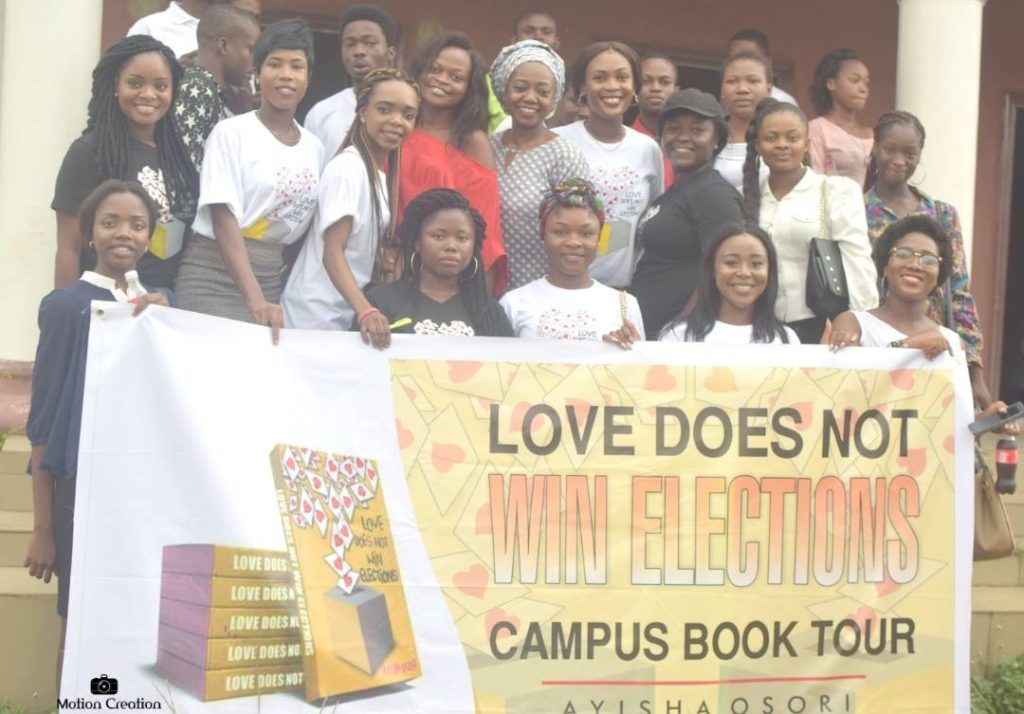 In a bit to sensitize youths especially students on importance of being active in political activities in Nigeria, author of the book 'Love Does Not Win Elections', Mrs Ayisha Osori has taken the campaign to Federal University of Technology Owerri.
At the event which took place on Thursday March 22, 2018 at the SUG Resource Center, Federal University of Technology Owerri, Mrs Ayisha Osori said that the essence of the book tour was to groom young politicians with a better mindset that will solve the problem of the country.
Mrs. Osori who was a former House of Representatives aspirant also said she wrote the book to make young politicians and others planning on venturing into it to know what it takes to win elections in Nigeria which according to her is just more than love.
She added that from her experience and accounts in the book, some ills in Nigerian political system can be corrected.
"We can improve our country", she said, while speaking on the hope for change in the political of the country.
"We cannot do that from the sideline, we cannot do that by sitting down and complaining. We cannot keep saying 'those people' 'those people', we are the people. We are the one who will have to go take part by not just voting on elections.
"What we need is just more people joining political parties and if they don't let us in, that means they don't want our votes", she said.
She went on to describe politics as the noblest profession in the world, encouraging more women to join the trade. Mrs. Osori then proffered early sensitization as way of teaching young ones that politics is worth venturing into.
"Politics is the way through we advance the society; the way through you decide who governs you; it's the way you decide what kind of policies and what kind of processes governs you"
"What we need to do is understand the challenges that is there for women. How can we take those challenges away so that it's a less oppressive place for women. The truth is, it is also oppressive for many men because there are many who try to get in but find it difficult", she added.
Citing these challenges, Mrs. Osori then said that the problem is the process of selecting leaders in political parties that needs to be changed to ensure people with right mindset and policies win party tickets.
Other highpoints of the accession include an interactive session where participants asked questions as well as the announcement of the winners of an essay competition on 'the roles schools can play to increase youth participate in politics' where the three winners Chike Donald I., a 400 Level student of Petroleum Engineering; Uzoka Harriet C., a 500 Level Student of Financial Management Technology and James Itoro E, a 200 Level student of Chemical Engineering  went home with Fifty Thousand, Thirthy Thousand and Twenty Thousand Naira respectively.