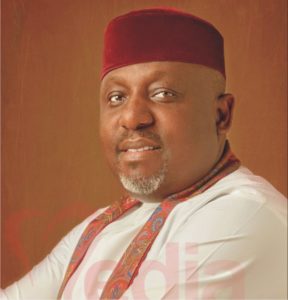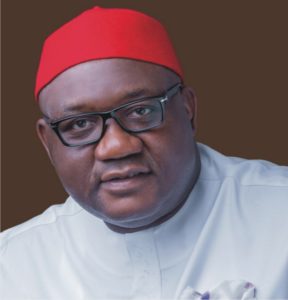 Senator Ben Uwajumogu, represents Imo North at the National Assembly on the platform of the ruling All Progressives Congress (APC).
He has advised the National Working Committee (NWC) of the party to heed President MuhammaduBuhari's recent warning that they should not allow imposition of candidates.
Governor RochasOkorocha has stated at different fora that he has replaced you with one Prof. Obiageli as senator that will represent Imo North, come 2019. Are you in any way disturbed?
I'm also surprised just like many over the statement credited to Gov. Rochas Okorocha. I read about it in your paper. If not that I did, I wouldn't have believed it even though the governor had made the statement on several occasions. Prof Obiageli who is running as a proxy of Okorocha is going round Okigwe zone claiming to be the next Senator that will represent them in the 9th Senate. My reaction is that it is a tragedy because the governor appears not to realise that in a democracy he doesn't have the capacity to determine who will represent Imo North at the National Assembly in 2019. The power resides with the people of Okigwe to decide who will represent them. When the time comes Okigwe people will choose those that will represent them in different capacities. No doubt, they will speak with their votes. Like I have said at different fora, the governor is distracting his administration by promising so many people positions he cannot guarantee. Okorocha should realise that power belongs to God. God is the one that will decide who gets into any position. So, my advice to OKorocha is not to play God because the way God made him governor so He will enthrone others into positions as it pleases Him. Therefore, any attempt by anybody no matter how highly placed to cow the people will be resisted.
Before now, you have never disagreed with Okorocha publicly, when did you fall out with the governor?
I have worked with Okorocha since 2011 when I was Speaker of Imo State House of Assembly. We had very harmonious working relationship and those days we discussed most policies before they were implemented. I was carried along and my suggestions and opinion were considered and implemented and the people were better for it. But since the second coming of Okorocha, the policies and programmes of the governor are not people oriented and I have continued to oppose such policies and programmes. They include the demolition of Eke Ukwu Market and people's properties without any commiserate compensation. The fact that a lot of interest groups within the APC were leaving the party in droves because the party in the state was not properly managed shows that Okorocha is running the state as a private enterprise. I can reliably inform you that for over three years of APC, we have not held any meeting where leaders, stakeholders and the governor were invited. Okorocha should also know that APC has grown beyond where one man will decide what happens. Decisions are collectively taken for the good of all members. He should realise that Interest of major stakeholders must be given due consideration. The governor's plan to install his son in-law as his successor did not go down well with not only me but most people in the state. And I made my stand known to the governor and his reaction is to plot how he will push me out of the senate. As the senator representing Imo North, I intend to put my name forward when it is time to run for election as candidate of APC for Okigwe Senatorial District in 2019 and I believe by God's grace I will be re-elected by my people.
You were accused of being used by Okorocha to impeach his former deputy, Jude Agbaso, have you any regret over your involvement in the impeachment saga as Speaker?
I do not have any regret whatsoever because the impeachment of the then deputy governor, Jude Agbaso went through due process. The deputy governor was invited and interviewed. The key issue were: did the state lose money under the deputy governor's watch? Certain amount was paid to a contractor and the deputy governor was the commissioner for Finance at the time and the contractor had abandoned the site for almost 10months and he never returned to site. So, when we contacted the contractor, he said he gave the money to the deputy governor. And the deputy governor was invited and he denied having any contact with the contractor, but when the contractor was brought before the deputy governor and the contractor explained where and how they met, claiming the deputy governor forwarded an account number to him and we asked the deputy governor to provide his call log of MTN and he did not do that. So, it was negligence on the part of the deputy governor either by commission or omission. He did not discharge the duties of the state government to the best of his ability and so he was indicted for not doing that. And when you are indicted as a deputy governor the only option is impeachment and that was exactly what we did. He went to court to challenge his impeachment up to the Supreme Court and he lost. Therefore, I don't have any regret for my involvement in the impeachment. My only regret is that as my friend it affected our friendship. The impeachment was avoidable, if Agbaso had yielded to the political solution. But he did not take advantage of it and so the process of impeachment had to go on and I was the principal officer who presided over the process and having seen the facts presented by members, I had no option but to do the needful.
When you said the state APC has not held meeting for three years, are you not worried that Okorocha may deny you the party ticket in 2019 since the governor is the leader of APC in Imo?
I was one of the founding members of APC in Imo State. As a matter of fact, APC Okigwe zone was formed in my sitting room where we appointed facilitators who went and established the party in their local government areas and wards. APC is stronger in Okigwe zone than in any other zone in the state. It is also in the same Imo North that we have the only APC Senator and one member of House of Representatives of APC from Imo. And indeed, the six members in the state House of assembly are from Okigwe. So, I'm a major stakeholder in APC and Okorocha has right to support whoever he wants but he does not possess the right to impose candidate on the people. If he presents a candidate and APC stakeholders and the delegates find out that the candidate can win election for the party, so be it. But what stakeholders are saying is that it is immoral for the governor to present his so in-law who is from the same political zone, Orlu, to succeed him as governor of Imo State. The young man in question need more experience in other areas of life to be able to govern a state like Imo. Yes, a 42 years old man can be governor especially now that there is clamour for young people to take over leadership of the country but I don't think UcheNwosu has the experience to run Imo State. I believe APC will lose Imo if Okorocha is allowed to field his in-law as candidate of the party in the governorship race in 2019.
To many, you are seen as being ungrateful to Okorocha having helped you to defeat Chief AtanAchonu to become Senator?
Of course, Okorocha was part of my victory, but you cannot say I'm ungrateful. On December 31, 2016 I led Okigwe leaders including Sen. Ararume to thank Okorocha for his support and as the leader of APC in the state. So, I owe the governor appreciation. He will continue to be the leader of APC in Imo till 2019 when he leaves office and when he leaves office he will be one of our major stakeholders. The fact is that we run a party politics and it is one for all, all for one. In 2015 we had an election and all of us who won and those who lost worked to deliver the governor both at the first and second ballot. Also, we all worked to deliver every other candidate and that was exactly what happened in my own case. So, when you make it sound like it was a different case, I begin to wonder. However, even members of the National Working Committee of APC came from Abuja to assist in campaign and during the election proper. Ararume was at the forefront of my election too just as he assisted Okorocha to be re-elected. So, this is what party politics is all about. I'm still grateful to those who played major roles to ensure I emerged victorious. However, there are things I will not accept no matter how grateful I' am, things that go below my moral acceptance. When things I will not accept happen, I must speak against it.
Before we disagreed openly, I told the governor that I won't support anti -people policies of his administration. For instance, when I was Speaker and Eke Ukwu Market demolition issue came up, I dissuaded OKorocha several times from demolishing the market. And before the recent demolition, other leaders and I sort audience with the governor to discuss and warn him of the consequence of the demolition without provision of an alternative place for the traders but he never gave us audience. Imagine if you demolish people's stores without providing them alternatives, how can the people feed themselves and their families? It is a pity that Governor Okorocha having agreed with the leaders of the market that he will give them time, only went days later to pull down the market during Christmas festival even with their wares inside their shops.
The responsibility of government is to protect lives and property and guarantee the right of the people to pursue happiness. But in the case of Imo State, Okorocha has continued to make the people unhappy through his anti- people policies.  When the state government begins to constitute itself into a problem, I won't continue to support such government because I want to show loyalty, and my loyalty should be to the people of Imo and to my constituents.