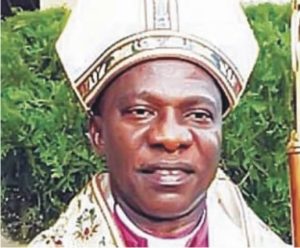 Bishop of the Anglican Diocese of Egbu, Rt. Rev. Geoffrey Okorafor has encouraged Christian adherents to be consistent in their belief. He urged them not to weaver in the pursuit of their Christian faith, rather remain undaunted in preaching the gospel.
Bishop Okorafor gave the charge in his homily during the pastorial visit to St. Matthias Church, Umuchima, Ihiagwa in Owerri West Local Government Area , Imo State stressed that as believers they should be proud of being identified with Christ. While  advising against self righteousness
he maintained that they should not allow anything to shake and deflate their faith.
The Bishop enjoined the congregation of St Matthias to emulate their Patron Saint in embracing and being identified with the gospel message, ensuring that all lost sheep were found and brought back to the fold. He posited that there was great celebrations in the heavenly realm  for every lost sheep that returned. Bishop Okorafor who acknowledged that the date, 24th February, commemorated the fifth year of his consecration as Bishop of Egbu and their Patron's day challenged them to fish out those yet to be reached in their environment and be sure they were brought to the knowledge of the gospel message. He pointed out that everybody on planet earth were relevant and important to God. He further charged that in every circumstance they should remain focused, even in the face of storms and challenges, they should also not stumble but be resolved , determined and resolute in their commitment to their faith putting their
trust and confidence in God.
The Bishop averred that  the world all over , without denominational discrimination, would be converted and  souls drawn to Christ,but regretted that the ban of the Christendom was the absence of unity amongst them. He also urged Christians to shine their eyes now that the politicians were warming up against the 2019 general elections and enjoined  them to ensure they had their PVC , being the only weapon they have to determine who governs them, he stressed.
Highpoint of the service included the cutting of cakes to mark the Bishop's consecration anniversary and those born in the month of February.