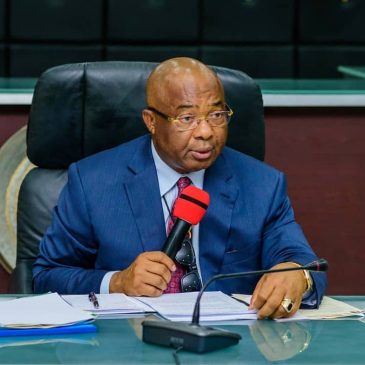 "..they're to hack BVAS,any other INEC gadgets"
…Earmarks N5b for room reservations
The Sam-Jones Governorship Campaign Organization of the PDP governorship candidate,Sen.Samuel Anyanwu in Imo state is utterly appalled to inform the people of another alleged  plot by Hope Uzodinma to hide 'foreign' machineries in over  four thousand  hotel rooms in the state.
These machineries, according to credible information were allegedly hired from China, South Korea and five other states in Southern Nigeria. Their job is to hack and corrupt all election gadgets (BVAS) and ensure that it malfunctions on the election day.
Information further revealed that another reason for renting all the rooms is to frustrate election observers, Civil Society Organizations,CSOs, and officials of opposition political parties from having access to any hotel room when they arrive Imo for election monitoring.
This criminal plot was uncovered in a letter dated 25th October, 2023 with reference No: MTC&CA/S.76/VOL.1/T/90, captioned, "Request for Reservation of Your Hotel Rooms from 4th November-12th November, 2023" and signed by the Commissioner for Tourism, Barr Jerry Egbule Egemba. Uzodinma,it  has been  alleged  has threatened to demolish any hotel that fails to comply with the directive within the dates mentioned.
Cumulatively, the hotel renting will cost Imo state over N5 billion. "This huge sum meant to be lavished on frivolities belongs to Imo tax Payers. This is indeed, a sign of defeat for an incumbent Governor of a state to resort to alleged  brigandage   in a bid to save his job. Uzodinma is aware that he cannot win the November 11 Governorship election, this is why he has started devising means to subvert the wishes of the people."
The party urged Imo people to  prepared for this off-cycle election on November 11, and anxious to vote APC out.
This is a state with a debt profile of over N207 billion according to Debt Management Office (DMO), where no meaningful project in health , agriculture, education, economy and  rural roads is either ongoing or completed.
PDP further noted that under Uzodinma as Governor, Imo state has experienced untold hardship, starvation and insecurity, yet the APC administration is doing nothing to quell the menace.
"It will be impossible for this government in the state led by Uzodinma to win the upcoming election owing to the fact that Imo people have rejected everything about the party and its desperate candidate",it stated.
The  campaign council therefore warns Uzodinma and his party to desist from cutting corners having seen the handwriting of his political humiliation on the wall.
It urged Uzodinma and APC to  respect all electoral guidelines and stop importing strangers into the state to manipulate the up coming  election results.
Our campaign council therefore appeals to all security agencies in the state and beyond to mount surveillance on hotels in the state starting from the 4th to 12th November, 2023 and arrest anyone suspected to be part of the illegal deal to forastall any break down of law and order.
NIGERIA NEWSPOINT