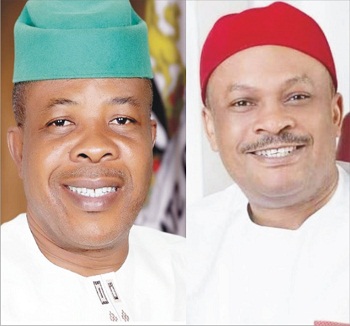 By Julius Okoronta 
Since last April when Senator Samuel Anyanwu truculently picked the governorship ticket of the People's Democratic Party,PDP, volumes have been written and epistles delivered about his deliberate efforts geared towards distorting already established processes and proceedings of the party's electioneering practices.
As a strong and loyal party faithful, I can state without fear of contradiction that the erstwhile national secretary of PDP, who is popularly known and addressed as Samdaddy, has been twisting the party's rules, regulations and even turned the PDP Constitution 2017, as amended, on its head just to favour his huge vaulting ambition of becoming governor whether or not it is at variance with PDP's internal democracy and democratic dispositions.
It is alleged that besides the evident exploitation of his former elevated position of national secretary to usurp and  appropriate the governorship ticket for the November 11, 2023 election to himself, he even non-challantly looked the other way as numerous big and light weight members of the party left in droves. Rather Samdaddy, in a most atrocious circumstances never ever before witnessed in the country's party polity and politics, caused a sharp and dangerous demarcation in PDP by arrogantly excluding the party's existing as well as organized structure, to impose his personal structure -Divine Mandate Movement, DMM – as the action activator for his campaigns.
His alleged wobbling and fumbling Campaign Council which was composed with absolute disdain and in complete disrespect, disregard of the party's mainstream elements, but replete with nothing but Divine Mandate Movement characters.
For instance, most, if not all the directors, deputy directors, coordinators and other principal officers of Samdaddy's campaign council are of DMM extraction. The simple meaning is, all the other structural layers of the party, including the Rt Hon Emeka Ihedioha components were recklessly left out. For the records, let me say it, and it is factual, Ihedioha is the true face of Imo PDP even as he controls over 77 percent of the party's following and draws enormous support and sympathy across party lines. Yet, Samdaddy and his handlers overlooked these attributes and jettisoned the huge figure structure that Ihedioha's structure represents.
It therefore goes to say that the biggest error of judgement as well as greatest undoing of Senator Samuel Anyanwu was his alleged  failure to mend fences with the former governor of Imo state, Rt Hon. Emeka  Ihedioha. This, perhaps, more than anything else, has continued the schism and widening gulf between the two structures that has created disunity in the party. From all indications Samdaddy has shown some modicum of seriousness about being governor but has not demonstrated the capacity of a social engineer who can massage egos, heal wounds as well as offer inspiring leadership that is imbued with hope.
The displacement of the PDP party structures  for Samdaddy's DMM as the central campaign created an atmosphere of mistrust and suspicion. This was obviously, the major factors that resulted in the resignation of key seven members of the State Working Committee after months of Senator Anyanwu's relentless attempts to remove them failed. These officers quickly moved into the All Progressives Congress, APC, and probably strengthened the incumbent. As it is, both Samdaddy and his PDP romps do not have any answer to these moves and are not likely to survive the gathering storm and may be heading to a thrashing defeat on November 11.
It is important to clearly state here for Samdaddy to understand that virtually all the remaining hangers-on around him are only waiting on him just for the sake of the election funds he is poised to release on the eve of the election. Once these elements get their hands on the funds, they are mostly to leave for other paymasters.
NIGERIA NEWSPOINT