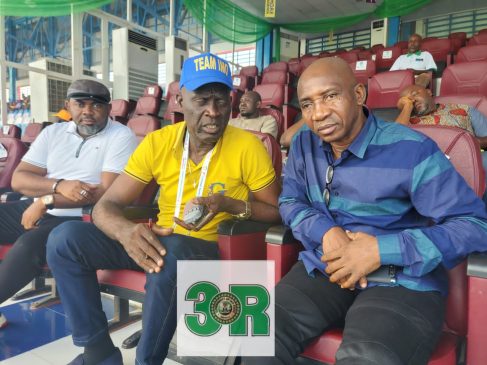 The Imo State Honourable Commissioner for Sports, Youth and Social Development, Hon. Emeka Okoronkwo, has offered his warm commendations to the exceptional performances of Team Imo at the ongoing National Youths Sports fiesta 2023 held at the Stephen Keshi Stadium in Asaba, Delta State.
Hon. Emeka Okoronkwo, who is present in Asaba, Delta State, expressed his admiration for Team Imo's achievements while addressing Sports Writers gathered inside the stadium's Press Centre.
In his statement, he said, "So far, so good. His Excellency Distinguished Senator Hope Uzodinma, Governor of Imo State, is diligently monitoring the performances of Imo Contingents and has already expressed his satisfaction. He has entrusted me with conveying the overwhelming solidarity of Imolites to our youthful Contingent. I, therefore, urge all of you to showcase the creativity and well-tested sportsmanship of Imo Youths/athletes both within and beyond Nigeria."
Hon. Emeka Okoronkwo took the opportunity to commend Governor Hope Uzodinma for his unwavering commitment to holistic youth development in Imo State, utilizing sports as a vital springboard and point of contact for nurturing and promoting talent.
This commendation comes during a visit to Team Imo by Commissioner Okoronkwo, where he also discussed the government's support for sports in the state and addressed concerns surrounding the alleged disqualification of Team Imo contingents. The visit served to inspire the athletes and reinforce the government's commitment to sports development in Imo State.
Moreover, Sir Ferdinand Emeana, the Director of Sports in the Ministry, echoed Commissioner Okoronkwo's sentiments. He praised Governor Uzodinma for his visionary approach to youth development through sports and encouraged the youths to actively engage in sporting activities, emphasizing that sports serve as a potent avenue for growth, empowerment, and positive change in society.
The presence of these distinguished figures not only uplifted the spirits of Team Imo but also symbolized the unity of purpose in nurturing the talents of Imo State's young athletes. Their commendations and encouragement reaffirm the government's unwavering belief in the potential of Imo State's sporting talents and the transformative power of sports in the lives of its youth.
NIGERIA NEWSPOINT