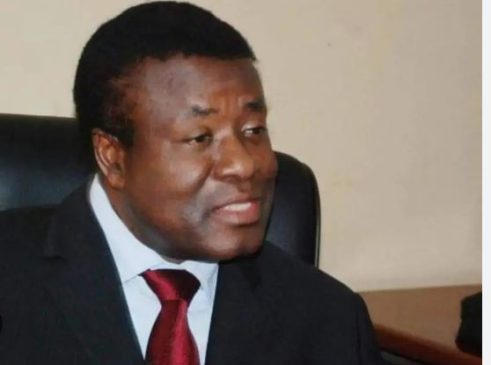 "Dr Chinwoke Mbadinuju passes on at 78"
By Kenneth Anozie 
Dr Chinwoke Mbadinuju, Odera was the first Executive Governor of Anambra state when this present democracy started. He handed over to Dr Chris Ngige.
Dr Chinwoke Mbadinuju  has passed on recently.
Odera as fondly called  put up the structures of governance which is in use today by succeeding administrations. He managed the little resources accrued to the state, ₦580 million monthly, while salaries of public servants were ₦480 million monthly; perfectly thus he has the greatest infrastructural development in the state which all successive administrations are hanging on to till date.
Odera's administration built the Alex Ekwueme Square, Awka. He also built the what we have today as Dora Akunyili Women Development Center which house a state of the art conference center, Skills Acquisition Center, a medium Suites with lodging accomodations and a standard but uncompleted podium.
This Center was popularly known as Women Development Center Awka, then. That was the place that President Olusegun Obasanjo was hosted in 2002 when he visited Anambra on an official visit. The center was the Alpha and Omega of all important government, political and Private functions in Anambra state.
What is of today the Anambra state government House was developed by the administration of Dr Chinwoke Mbadinuju, and officially opened by Dim Odumegwu Ojukwu. It attracted some backlash from President Olusegun Obasanjo then. We all know the reason.
Dr Chinwoke Mbadinuju procured and started the construction of the new government House and Lodge behind the Ekwueme Square Awka which the government of Prof Charles Soludo is working on today.
The present Anambra state House of Assembly building is a credit to Gov Chinwoke Mbadinuju's administration including the Judiciary Headquarters. The Commissioners quarters Awka is not left out.
Some road infrastructures in Awka capital territory as it stands today are good testimonies of Dr Chinwoke Mbadinuju's administration.
You may argue about the prolonged teachers strike during his administration but that was championed by detractors of his administration. The then labour leader, Oshiomhole was paid heavily by Mbadinuju's detractors to prolong the strike, even when Dr ABC Orjiakor through one of the banks he has interest in offered to loan the government money to offset the salaries.
Many current political leaders in Anambra State were pulled in by Dr Chinwoke Mbadinuju's political magnanimity. Dr Chris Ngige was recommended by the then Governor as Secretary of SE PDP. Chief Ben Nwankwo was made the first secretary of Joint Action on Development, (JAD); an initiative that involved the 21 Local government areas and the state in a joint development venture.
Dr Alex Obiogbolu was the first and only chairman of Local Government Service Commission. You would remember Dr Nkechi Ikediugwu. She was in charge of the Education Board at that time. Today Dr Nkechi Ikediugwu now a professor is now reappointed to head Anambra state education board once again by Prof Charles Soludo administration.
Ngozika Housing Estate was conceived by Mbadinuju's government. Iyiagu Estate came to fruition under his government, also. There were many other good things we can say about his government.
This is an indication that Dr Chinwoke Mbadinuju made good appointments in education sector.
As we mourn the exit of an ICON and an Achiever,I would want to draw the attention Soludo Charles Chukwuma , the present governor of Anambra state to once more revisit the artistic drawings on the walls of the three flyovers at Awka . The picture or the face of Dr Chinwoke Mbadinuju was omitted.
Our governor Charles Chukwuma Soludo should ensure that the face of Dr Chinwoke Mbadinuju will have a space on the walls of the Awka flyovers.
Dr Chinwoke Mbadinuju should be immortalized by naming either the Anambra state House of Assembly complex or the Judiciary Headquarters Awka after him.
We will not also forget that the present Headquarters of the Anambra Broadcasting Service, ABS was procured and constructed by the administration of Dr Chinwoke Mbadinuju including the first Studio Complex of the station at Aroma Junction Awka.
We should always remember that under Dr Chinwoke Mbadinuju's administration Anambra state Water Board was functioning,the Greater Onitsha Water Scheme, financed by World Bank was very active. Public water supply was effective. The Nkwelle Ezunaka farm was active. What are the situation of these government agencies today after Dr Mbadinuju?. Why was there no continuity or does it imply that Anambra people do not need there services anymore.
There were lots of goodies to remember about the administration of Dr Chinwoke Mbadinuju. After him no government have been able to pay the approved minimum wage to Anambra state civil servants. The civil servants will always remember that it was only Dr Chinwoke Mbadinuju that have paid them the 13th month since the creation of the state.
Odera started the making of Anambra State as an oil producing state by establishing the first oil and gas company in Anambra State. Today we are an oil producing state.  Orient Oil Ltd was registered by Dr Chinwoke Mbadinuju back in 2001/2002, and he appointed the first M.D of the company.
Your Excellency, Dr Chinwoke Mbadinuju,the good people of Anambra state mourns your departure from this earth. You shall be remembered in the Years to come. You are not a stumbling block to governors after you. You did not in anyway tried to impose your personal demand on any governor after you. We hope , others will learn from you.
Good night, Odera,
Rest in Peace Dr Chinwoke Mbadinuju.
Dr Kenneth Anozie 
Pifmedia
NIGERIA NEWSPOINT