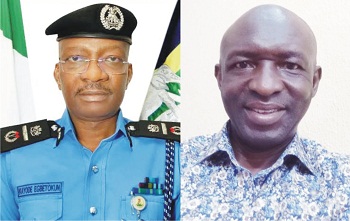 By Afam Echi
It is no longer news that Imo State since three years is reckoned as a war theatre and epicenter of violent killings in Igbo land. What may possible go down as news is that the Senator Hope Uzodimma government has found a solution to the frequent blood lettings that have characterized his government. It is on record that since he assumed office unending violent killings have trailed the administration non-stop in spite of all efforts to control the situation.
The list capturing the orgy of violence continued to elongate with the Tuesday incident at Ehime Mbano in Imo State. In a most horrific and terrifying manner, gunmen untimely dispatched to the beyond 8 security operatives of the Joint Task Force (JTF) while on duty. They were shot and vehicles burnt at Eke Nsu, Umualumaku.
One account stated that they were deceived and tricked to answer a distress call unknown that they have been ambushed by gunmen who used the opportunity to commit the worst crime on earth. The incident as usual has attracted wide spread reaction and condemnation locally and internationally speaking volumes on the heightened insecurity in Imo State no matter how the authorities seek to hide it.
The incessant killing of people by the so called gunmen is sad and unfortunate and deserves condemnation by all right thinking people. Human life is sacred and is protected by the constitution of the Federal Republic of Nigeria. No one has a right to take the life of another. Besides, no man can create life and so should not destroy one.
The loss of 8 security operatives is a colossal waste to the nation. Huge resources must have been expended in training them. The nation has lost their experience and services to death. Besides and painfully too they have left widows, children, and other dependants now without support. All their dreams and contributions to life have been cut off.
The concept of gunmen in our present reality has become amorphous. It is a strange phenomenon difficult to class. So many persons are today wielding guns and breaching established codes relating to guns with impunity. There are the assassins, kidnappers, freedom fighters, including vigilante people armed by government called Ebubeagu as well as those armed by the politicians.
When a crime such as this occurs it becomes quite difficult to pin it down to any group. Whatever may the motivation of any individual or group taking lives cannot be justified under any guise. According to the authorities gunmen have come to be described in the main as those agitating for the separatist state of Biafra and are often the focus of attention. So far no group has claimed responsibility for the incident.
In a reprisal action the soldiers next day launched attack on the community burning business premises, markets, hotels, houses etc all to avenge the death of their colleagues mowed down in cold blood. This is again most unfortunate. It leaves to question the level of sanity and sense of responsibility of those charged with the duty of protecting us.
Just as we have said that the sanctity of human lives should be preserved, again nothing can justify a reprisal attack as the best approach to avenge the killings. We are a society governed by laws which the soldiers are subject to. No one quenches fire with fire. It is a sign of weakness for armed soldiers to attack defenseless unarmed civilians who pay their bills through tax payment.
The attack on civilians speaks volumes on the level we have degenerated as a country and interrogates the quality of our leadership. Sadly, it has become an established tradition of Nigerian soldiers to attack the people in any area where they have lost a colleague or colleagues. This is barbaric and primitive to say the least. Those who have suffered losses from the soldiers attack may be innocent and have nothing to do with the attack.
It would appear that this approach has the official imprint of the military authorities otherwise there would have been a stop to this. This is a common experience in Nigeria everywhere you go. In 2021 during the COVID-19 stress, two soldiers were hacked down at a military checkpoint near Nwaorieubi, Mbaitoli LGA headquarters in Imo State.
Soldiers came back and attacked the village and killed 6 people in the process. The story was not any different at Izombe in Oguta LGA, Imo State same year when one of them involved in oil bunkering was killed by an angry factional youth group of the community. The entire community was sacked, numerous houses burnt down, as well as vehicles and motorcycles. It was a show of shame. Rather than frown at the action the state government went to smile with their top officers.
Many are now questioning on what premise that they draw the courage to unleash such mayhem on defenseless people and get away with it. This may be located in a reaction expressed by one youthful community leader and politician in Anambra State who simply gave his name as Frank. He fingered the political leaders' activities with the soldiers as what has continued to embolden them.
According to him, "why would the soldiers not do what they are doing when they are the same tools that the politicians use to rig election, out wit and attack their opponents? The main duties of the army have been abandoned as they now have been engaged more in domestic activities that serve the purpose of those who control them. The authorities cannot muster the moral courage to get them punished because they have since compromised"
We call on the authorities to investigate this matter properly and allow the laws have its course. No one has monopoly of violence. Attacking communities in this manner is one reason the people will develop more hatred for armed men and may further attack them if there is any chance.
Imo State insecurity is one too many which should attract the attention of the FGN. It has stalled development. People have fled from their communities and those outside are afraid to step in. The governor it can be established is so overwhelmed. Irrespective of government's claim to massive development it is common knowledge that nothing works in an environment of manifest insecurity. Imo needs peace. The soldiers should be punished.
…Dr. Afam Echi, is an Owerri based journalist, public opinion analyst and commentator on national issues
NIGERIA NEWSPOINT