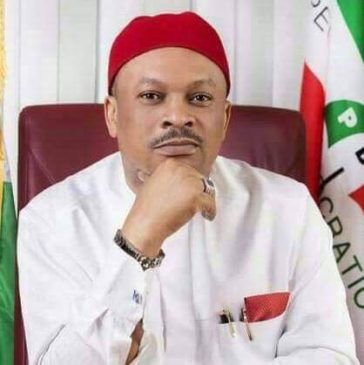 …Endorses PDP candidate, vows to protect votes cast for Anyanwu
As the governorship election in Imo State halts up, candidate of the People's Democratic Party (PDP), Senator Samuel Nnaemeka Anyanwu and his deputy, Rt Hon Jones Onyereri have continued to receive supports across various interested political groups.
Latest amongst the myriads of support and endorsements is, "Mbaike Ambassadors Group (MAG)" led by, Hon Okoebo Magnus Chibuzor.
In a solidarity visit to the PDP  candidate at his residence with their members, coordinator of the group, Hon Okpoebo said that despite the fact that Mbaitoli And Ikeduru Federal Constituency possess the largest votes in the state and had contributed their best to the development of Imo state, 90 percent of their roads and moribund public facilities were ignored to rot.
According to them, apart from when Senator Anyanwu was at the senate, no  other public office holder living or alive has deemed it fit to attend to the deplorable road network in the constituency, regretting that the position of deputy governor that would have given them a facelift has ended up eluding them.
The group further rejected further plot to foist the deputy governorship position on them having discovered that Mbaitoli and Ikeduru are not lucky to benefit from the number two seat in the state, insisting that the least the constituency could bargain remains the governorship seat.
While describing the governorship project of their son, senator Anyanwu as the only choice that would salvage the area and recover the state from the grip of insecurity, underdevelopment, corruption, killings, correct and strengthen the political imbalance in the state.
The group further called on the people of Mbaitoli and Ikeduru not to waste their vote on any candidate working against the development of their constituency, regretting that the area had not benefitted anything since the APC administration of Hope Uzodinma assumed office.
The Mbaike Ambassadors group further vowed to protect any vote cast for the PDP candidate in the November 11 Governorship election, assuring that their people would resist any plot by whosoever to harass, intimidate or molest them including hijack of electoral materials.
Addressing the group, Senator Anyanwu commended them for being bold and steadfast in the pursuit of the state's liberation, promising to ensure that the November election was free, fair and credible.
He charged them to go out and vote for him and remain until votes were counted, maintaining that why his opponents are afraid is because they have nothing to present to the people of the state as achievements, apart from colossal failure.
Anyanwu further challenged them to go to their respective wards and sensitize the people on the need to come out en masse to support the PDP, adding that under his administration, not only that the youth would gain sustainable employment, but roads would be reconstructed and dilapidated infrastructures revived.
NIGERIA NEWSPOINT