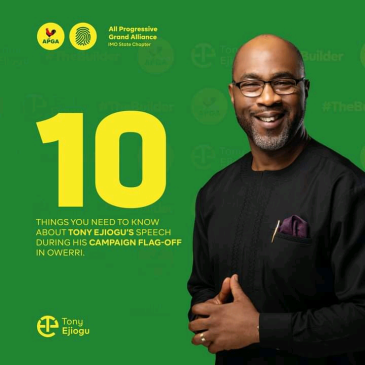 …Insists: "I'll not rent crowd for campaigns"
Worried by the high death rate prevalent in society today, the candidate of the All Progressives Grand Alliance, APGA, for the November 11 governorship election in Imo State, Hon Tony Ejiogu says his administration if elected, will take serious measures to halt the prevailing high mortality rate.
The Imo APGA governorship hopeful equally made it clear that he would never resort to the old tricks of those he described as "professional politicians," by paying or renting crowd to welcome him during his campaigns.
Hon Ejiogu who officially flagged off his campaign for the scheduled November 11 Imo gubernatorial poll, flayed what he deemed the worrisome levels of mortality and morbidity among the populace.
Ejiogu made it clear that tackling this challenge would begin with a comprehensive overhaul of the primary healthcare centres in all Local communities in the state,
The former Senior Special Assistant, SSA, to ex-Governor Ikedi Ohakim, vowed that his administration, if elected governor on November 11, would inject the desired funds into the health centres in every Local Government Area of Imo State, as well as put the right personnel, necessary drugs and heath facilities to reverse the trend.
The United States-trained technocrat however, added that achieving this important goal in the Imo health sector would require as a matter of necessity,the  return of LGA autonomy in the Imo  Local Government system run by democratically elected chairmen and councillors.
Meanwhile, Hon Ejiogu's issue-oriented, policy-focused governorship campaign has attracted commendations by Imolites at home and in the diaspora.
Recall that the Imo APGA standard bearer has already made it clear that he would never rent crowd like some old politicians, all through  his statewide governorship campaigns.
NIGERIA NEWSPOINT