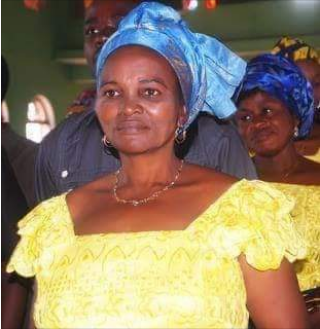 Tragedy struck in Isiala Mbano Local Government Area of Imo State on Thursday, August 24, when Eziada Patricia Okeoma lost the battle to remain alive hours after involvement in an automobile accident.
Eziada Okeoma was the mother of the Imo State Correspondent of the Punch Newspaper, Comr.Chidiebube Okeoma.
The journalist announced the passing of his mother on Social Media at the weekend.
According to him,a reckless motorist knocked his mother down, leading to his mother being rushed to a nearby hospital.
The Journalist further disclosed that his mother was put on  life support machine but she later gave up the ghost.
Chidiebube wrote; "Oh my mother! I waited till dawn to see if it was a dream but it has turned out to be a reality.
"The closet person in my life, my beloved mother. A woman who worked hard to train her children. A woman of God.  A woman who loved me unconditionally, is dead.
"Yes, she is dead. She was knocked down recently by a reckless motorist. She was rushed to a hospital at Umunachi in Isiala Mbano Local Government Area of Imo State.
"She was put on a life supporting machine but she could not make it.
She waited till I rushed down from Owerri before she breathed her last. That was how close we were.
The journalist solicited for prayers to enable the family pass through this trying times.
NIGERIA NEWSPOINT