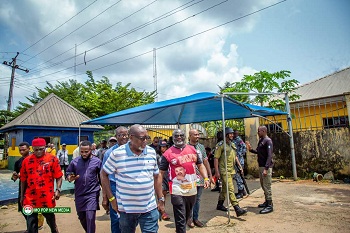 By Onwuasoanya FCC Jones
Let me first of all say that I am delighted with the solidarity displayed by members of the Peoples Democratic Party's State Working Committee and critical leaders of that Party when they were invited by the Police yesterday. The impression of those whom Uzodimma used to write that frivolous petition is that the Party in Imo State is not United, and they believe that any member invited by the Police would be abandoned by the others to answer for himself, but with the solidarity shown yesterday and the subsequent show of strength as they marched out of the Police headquarters yesterday, the PDP might have succeeded in reigniting confidence in the hearts of its thousands of followers who before now were mostly confuse and torpid as a result of the crisis that has bedevilled that Party since the emergence of Senator Samuel Anyanwu as its governorship candidate.
So, instead of derailing the Party's governorship campaign and mobilisation that is going on, this unnecessary police invitation was exploited by the Party's leadership and its governorship candidate to score a major political point, which no governorship candidate or opposition political Party has been able to do since this campaign season started. Before yesterday, some of us were already expressing concerns that nothing is happening on the campaign trail on the part of the opposition, apart from Samdaddy's Thank You tour of the 27 LGAs which somehow kept the people engaged and somehow excited about having an alternative governorship candidate. But, that little solidarity march at the Police headquarters, actually had more impact than a campaign rally across the 305 wards in the State would have.
What Imolites need at this time is someone or a political Party that would display the capacity to withstand the intimidation of the illegitimate incumbent, because every Imolite knows that even if you present an alien as an opposing candidate to Uzodimma, that alien will beat him hands down, but they are afraid that their votes will not count, so, most of them were already making up their minds not to waste their time coming out to cast their votes, since they are almost sure that Uzodimma will sit down in his house and write the results, then use the police and Ebubeagu to harass everyone who tries to protest.
It is obvious that Uzodimma is relying wholly on extrajudicial methods to secure a second term in office, and if no one shows the capacity to stand up to him, he will certainly get that second term. As the election draw closer, he will upp the ante on harassing opposing voices and rival candidates and it is only those with the right courage and fibre to fight back that will stand up to the bully and stay strong until the end of the race, and such are the people that will be worth our support and votes at the end of the day.
For now, Athan Achonu, General Ogunewe and Samdaddy are the governorship candidates that Imolites are watching closely, and any of these three will eventually get our support depending on how they are able to show strength and courage on the field, because Imolites do not want to waste their support and votes and what really matters to them at this point in our history is retaking our State from the impostor and the Daura cabal that imposed a stranger on us, every other thing will be secondary.
IMO MUST WIN!
NIGERIA NEWSPOINT