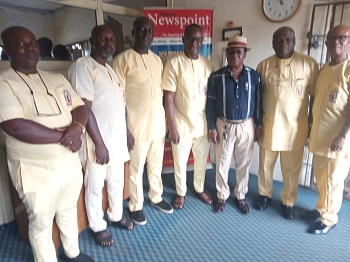 …Visits Nigeria Newspoint 
By Williams Odunze
In preparation for the  Father's Day Celebration, and the need for wider publicity,the Owerri Arch Diocesan Catholic Men Organization ,CMO, has visited Nigeria Newspoint to seek  media partnership with the media outfit for wider  publicity of its activities.
Leading the group, the Owerri Arch Diocesan President of the Organization,Bro.Kelechi Eke, said that the organization chose the media outfit because of its age long relationship with the Catholic Church and  as a popular and most widely read Newspaper in Imo State and beyond.
He stated that in line with this,that the organization believed that  the medium will give wider publicity to its  activities.
"We approached you because, there is no way our activities can be known without meeting a Media outfit like yours.So, we want to partner with you to give a louder voice to our activities,"he said.
He further informed that before now, people thought that the organization is just meant  for the aged ones not knowing that the younger Fathers are mostly needed to sustain the growth of the organization and spread gospel of Jesus Christ.
The CMO President used the opportunity of the visit to advise  Young Fathers not to   become  active members of the Organization, stressing that their inputs are much needed now that they are still young in order to keep the organization alive.
Responding, the Publisher and Editor- In-Chief of the Newspaper, Elder Lambert Ojukwu, said that he is happy to receive them in his office, maintaining  that Nigeria Newspoint is known in propagating news things that have to do with God.
The Publisher, further maintained that the Newspaper Outfit has never looked the other way in reporting the activities of the Catholic Church and other Christian bodies in the state and  beyond.
He promised the CMO Executive of  that the media outlet will assist  them in any way it can to ensure that its activities  are widely  presented to the public.
Elder Lambert, collaborated  the earlier statement  of  CMO's President in maintaining that young people should be actively involved in propagating the gospel of Jesus Christ and also be involved in politics to set the right track  by seeing Politics as an opportunity to serve God and humanity.
Accompanying the President on the visit, were some other executive members of the organization,namely,Bro.Ernest Nnanabu , (Secretary),Bro.Chukwuemeka Osuiwu( Public Relation Officer),Bro.Vin Agoha,Bro.Ndubuisi Duru and Bro.Chibueze Amadi.
NIGERIA NEWSPOINT