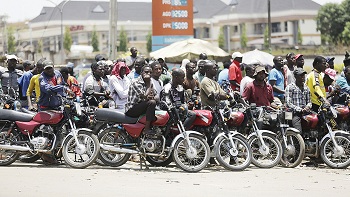 "Our members no longer feel safe"
There are emerging indications that commercial motorcycle operators in Imo State(Okada Riders)are  upset by what they described as alleged poor treatment  meted out on them by agencies like the Environmental Transformation Commission, Imo- ENTRACO.
This is even  as the commercial motorcyclists have  have raised serious concerns over their safety in view of alleged manner they were being  presently intimidated and brutalized.
They were also said to be shocked by what they alleged as government's silence over their plights including recent death of one of them.
The commercial motorcyclists, popularly known as Okada Riders, who are believed to have over  between 15,000 to 20,000 members accros the state, are said to be worried by  what they see as the alleged attempt to remove them from the roads mostly by ENTRACO.
It was gathered that The group  may have been further miffed by the alleged reported death of one of their members in April this year due to the alleged activities of the said ENTRACO.
The commercial motorcyclists it was equally gathered, may not be happy at the moment as the alleged activities of the said ENTRACO seem to have  thrown their members into hardship,destroyed their business.
It was further gathered that the situation is  not being checked and may therefore  compel the commercial motorcyclists or Okada Riders to begin shopping for another governorship candidate ahead of the scheduled November 11 gubernatorial poll in the state.
The members feel the safety of their lives and business may not be guaranteed if they even support the Gov.Uzodinma's second term bid.
NIGERIA NEWSPOINT