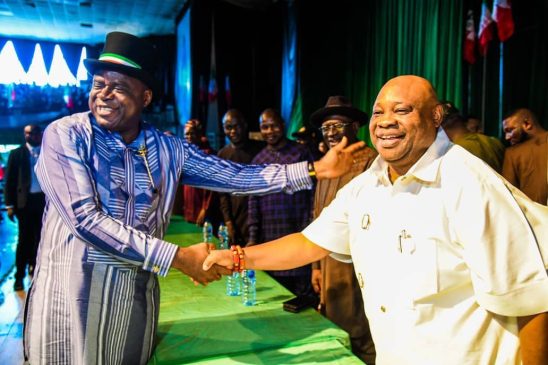 By Elizabeth Vincent
The gubernatorial primary which took place at the Dr. Gabriel Okara Cultural Centre in Yenagoa, saw the governor emerge on Wednesday, April 12th with a total of 305 votes as sole aspirant of the party. The total votes cast was 313 during the primaries, with 8 voids.
The chairman and Chief Returning Officer of the PDP Electoral Panel and Governor of Osun State, Senator Ademola Adeleke, while addressing the delegates and party stakeholders,
said Gov. Diri having satisfied the statutory requirements of the primaries was declared winner.
In his remarks before the exercise, Senator Adeleke called for a peaceful conduct of the process in accordance with the party's constitution and relevant provisions of the constitution of the Federal Republic of Nigeria.
He reiterated that Bayelsa is a PDP state, and enjoined members to ensure that it remains so by electing Diri for second tenure.
According to him; "Bayelsa is a PDP state. We must make sure it remains so in the coming election. We have to join hands together and make sure the governor retains his seat by the special grace of God."
Speaking to delegates and party Faithfuls after being declared the winner, Senator Diri expressed gratitude to the delegates and the party for giving him the ticket to contest for a second term in office.
Diri, who described the process as unprecedented in the history of the state as he was returned unopposed, noted that once a candidate was given the party's ticket it was as good as winning the election since Bayelsa is dominantly a PDP state.
Gov. Diri said: "Whereas, it is an unprecedented turn of events, I was the sole aspirant who picked the nomination and expression of interest forms to contest on the platform of our great party as its flagbearer in the November 2023 governorship election.
"It is, therefore, with utmost joy and profound gratitude I accept your kind endorsement of the process. I am truly humbled by your confidence in me to seek a second term to continue building the human and physical bridges that will lead us to the shared prosperity that our founding fathers envisaged for our people.
"Today is the beginning of an end; the culmination of the start of the process that, hopefully, by the grace of God and the will of the good people of Bayelsa State, will lead us back to Creek Haven for a second tenure.
"But what we have done today is only the necessary first steps in a long and hard journey before we will arrive at our desired destination.
Dear delegates and leaders, we are conscious of the fact that in a democracy, people must be allowed to vote, their votes must be counted and their votes must count.
So, whereas, in keeping with our well-entrenched culture of obedience to democratic ethos, the PDP will continue to trust the people to endorse our aspiration to lead."