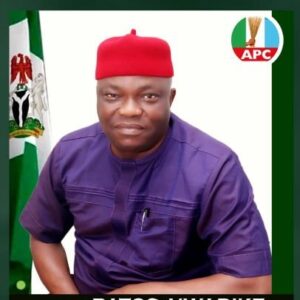 I only know how to campaign and win votes but i don't know how to write and rig election results. This is my assertion. Since May 2022 that i voluntarily resigned from the APC government of Imo state led by Sen. Hope Uzodimma as Special Adviser Political Matters, i have dedicated 90% of my time to the campaigns of Chief Charles Ahize. The man Ahize had wanted to run as Senator in the APC but providence ported him into Labour party which later became the rave of politics in contemporary Nigeria.
In 2020, Nigerians, especially the youths had triggered nearly a national revolution in what
is known today as End SAR's. This had moved into the political horizon in what is known as Obidients. Today with their PVC's, they have awakened the nonchalant and dormant electoral species of Nigeria.
In the South East region of Nigeria, there have been agitations for a separate state of Biafra. These agitations have pitched governments especially Imo state government led by Sen. Hope Uzodimma and the Seperatist gladiators in a more than three years perennial battle that has claimed hundreds of lives, arson of valuable properties and evacuation of areas like Orlu, Orsu, Oru East, Oguta, Oru West, Njaba and sundry places. But the epicenter have been these major three areas.
Since this matter got heightened round about three years ago, these areas have been in the headline news for many sad and grieving stories. Too bad! A once sleepy, quiet and promising area turned into a jungle of blood, death and fire. Military versus the irredentist, police versus the indegines. Orsu and Orlu Local Government infrastructure have for more than two years been razed to rumbles from local bombs of the agitators. There are virtually no local administration except in name. All villages have been evacuated and citizens are refugees in nearby communities or at the state headquarters in Owerri. Police stations, health centre's, maternities, palaces of traditional rulers have nearly all been razed down. It is a sad, grieving, blood flow of nearly daily stories of violence, death and brutish life.
Therefore, no primaries of all the political parties held in these epicenters of insecurities of Orlu, Orsu and Oru East. Political campaigns did not hold in these nearly deserted LGA's. The world knows this evident facts. The people of these areas would say clearly to the world that reflections about their ancestral homes are receeding since like three years of evacuation let alone to go and cast votes where they registered. A story they loathe to remember.
Professor Mahmoud, the INEC Chairman himself, the Imo state electoral commission, it's REC and officials knows quiet well that elections did not hold in virtually all the afore mentioned areas for reasons of insecurity. Even the published pictures of the polling unit of the Governor where he voted was like a bush with ballot boxes on bare ground and no voters around. What an untellable story! Therefore, generating blood ridden results from blood areas is the most satanic tribute to the memory of all those who have lost their lives and properties in this needless imbroilgo, only just for an ephemeral victory in an election. Time and history have shown and recorded that any phanthom victory gotten in such sordid and mindless manner cannot stand.
Dr Batos Nwadike( Ochiagha Orlu) is former Presidential Candidate (2011), President General of Leadership By Example League International( LELI), and writes from Umueze Umuorlu, Isu, in Nwangele LGA of Imo State.
NIGERIA NEWSPOINT