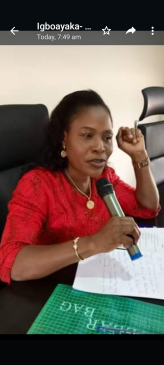 The leadership of Ohanaeze Youth Council, OYC has accused the Imo State Resident Electoral Commissioner, REC, Prof Sylvia Uchenna Agu of turning the rights of Imolites into a broad daylight robbery, threatening to deprive her sleep in reprisal.
The Apex Socio-cultural youth organization of Ohanaeze Ndigbo Worldwide, Ohanaeze Youth Council,OYC has described Prof. Agu, the Imo Resident Electoral Commissioner ,REC  as an embodiment of electoral fraud "in the history of INEC commissioners in the  state on the declaration of a manipulated Imo West senatorial results."
Addressing news men after an emergency meeting of the council at the state capital Owerri,  last Wednesday,March 1, the National President, Ohanaeze Youth Council, OYC, Comrade Igboayaka O. Igboayaka who also hails from the Orlu Senatorial  district frowned and condemned in its entirety the electoral fruad allegedly committed by Prof. Agu against the zone.
Comr. Igboayaka noted that classified information available to the council showed that the REC had already struck a deal to declared Hope Hope Uzodinma's preferred candidate, Osita Izunaso as the winner of the Senatorial election held in the area, against all odds.
According to him, "prior to the election, after meeting with one of Osita Izunaso's trusted alliens, at the former's house, it was disclosed that Hope Uzodinma had concluded the rigging arrangement with the REC to declare  Izunaso his preferred senatorial candidate of All Progressive Congress APC the winner of senatorial seat", he alleged.
Comr.Igboayaka who witnessed the electoral process within the Zone stated that there was no election in Orlu, Oru-East, Orsu, part of Oru-West and Ohaji Egbema, adding, "but Prof Agu fraudulently connived with Local Government Electorial Officer (EO) to do the shabby job for Hope Uzodinma."
"From the results that emanated from Isu, Njaba, Nkwerre, Nwangele, Ideato North/South and Oguta, shows that the  Labour Party,LP won with a landslide, but as usual Prof. Agu after she was allegedly  induced by Gov. Uzodinma's Dollar went on to  aid  Uzodinma to achieve the  'Omuma Political Magic' by manufacturing results from Areas where no election took place.
"We have strong feelings that upturning the mandate of Ndigbo given freely to Labour Party in Orlu Zone must have gone with exchange of thousands of dollars, it can't be ordinary.
"Our intelligence gathering shows that all the Local Governments and some areas wherein election didn't hold were all  strongholds of the  Labour Party, where Prof  Agu, Imo REC had already conspired with  Uzodinma to cause a delay in such areas. We also  gathered  that about 1pm, on the election date Prof  Agu delayed to give order for INEC electoral officiasl to move election materials to Wards and polling units, especially in Orlu and Orsu LGA.
Speaking further, he wailed that  "it   was obvious that Prof Sylvia Uchenna Agu has murdered sleep; and she will sleep no more by her attempted plot of upturning the democratic wishes of Ndi Orlu Zone by her alleged irresponsible attitude due to the  quest for wealth.
Igboayaka reminded  the REC to know that lack of quality representation and leadership was the  remote and immediate cause that has made Orlu Zone to be a war zone since two years.
He declared that Prof. Agu forgot that the former governor,Rochas Anayo  Okorocha has since been  a bench warmer at the Senate, adding that he  couldn't do anything to avert the killings and banditry that have taken place in Orlu Zone.
According to him,what the REC has  done by  declaring someone who doesn't have the mandate of Ndigbo Zone, is an indication that she has aided the killings, armed gangsterism, cannibalism that going on in Orlu Zone.
Prof Sylvia Uchenna Agu by her doctored, manipulated and Fraudulent Imo West election results is a direct way of creating Unknown foes to herself and family, therefore Within seven days, she  need immediate redemption of her name and family name by declaring the authentic winner of Imo West senatorial election.
It's important at this juncture that Nigeria University Commission (NUC) to withdraw the Professorship of Prof Sylvia Uchenna Agu as her character stinks which can steer up awful odor that can make a pregnant woman vomit uncontrollably.
Prof. Agu must at this modern time know that all her dirty deals through proxy with governor Uzodinma to allegedly subvert the electoral wish of Ndigbo in  Orlu Zone are known even the most last deal she had and thinks is a secret is no  longer a secret.
"Your  unpatriotic acts of Agu has provoked the frustrated,  Unemployed, aggressive Igbo youths and Orlu youths in particular who saw 2023 as a succour to retire unperformed political criminals of Igbo extraction from poor representation  at the National Assembly",he accused.
The Imo REC must as a matter of urgency reflect on the consequences of her alleged electoral fruad and amend her errors within seven days by giving Ndigbo a result that reflects  their wish at the February 25 national assembly elections.
Prof. Agu is to be deemed  an enemy of democracy and Ndigbo, therefore Ohanaeze Youth Council has declared her  a fugitive in Igbo land unless she  corrects the most electoral fraud she did against Ndigbo.
"It's obvious that those who pull the trigger of hate against the people, must be made to receive the bullet of hate by the people, in line with  the above assertion, Prof. Agu has pulled the trigger of hate against Ndigbo." He concluded.
NIGERIA NEWSPOINT