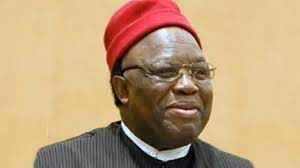 Senator Samuel Nnaemeka Anyanwu has described as unfortunate and regrettable the death of the President General of the Apex Igbo socio-cultural organization, Ohanaeze Ndigbo Worldwide, Prof George Achulike Obiozor at 80 years.
Anyanwu, who is the National Secretary of the Peoples Democratic Party (PDP) says, the indelible footprints the late Diplomat and scholar left in the areas of conflict resolution, bilateral relations and social development will remain in the sand of time.
"Prof Obiozor was a true reflection of what a good leader, motivator and role model should be. He was an exceptional mediator, am Ambassador per excellent, a true identity of a full-blooded Igbo son. Imo State, Ndigbo and Nigerians worldwide have lost a great iroko, an icon, a technocrat and scion of inestimable value"
While describing the demise of Prof Obiozor as a big slap not only to Ndigbo and Nigeria in particular, but the entire Globe.
"The world is mourning the departed Diplomat and urbane Scholar at 80 years. Prof Obiozor's name rang bell whenever he was mentioned. In Imo State, South East and Nigeria, every young scholar want to be like him. In the globe, he was the symbol of unity, and peace. As a committed administrator, late Obiozor distinguished himself as a disciplined and principled Diplomat till the end. He lived as a symbol of conscience and moral sanity who everyone consulted for better political, social, and cultural direction. He will be missed!"
The PDP National Secretary notes that within the period he served as President General of Ohanaeze Ndigbo, Prof Obiozor rekindled respect and confidence by ensuring that people from other tribes paid rapt attention to the challenges confronting his people, and regretted that he died while on the process of completing all he set out to achieve for the South East.
While consoling those he left behind, especially, the leadership of Ohanaeze Ndigbo Worldwide for losing such an asset, the former Senate Committee Chairman on Ethics, Privileges and Public Petitions calls on anyone directly or indirectly affected to take solace in the Lord.
He therefore prays God to accept his soul in his blossom, and expressed annoyance that he passed out at a time his wealth of experience was highly needed.
NIGERIA NEWSPOINT