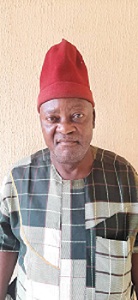 …Set to inaugurate PRENCO
The Labour party candidate for Orlu State Assembly, Comrade Precious Nwadike has appointed Chief Mike Mbama as director general of Precious Nwadike Campaign Organization,PRENCO.
In a letter dated October 8,2022 signed by comrade Precious Nwadike, he described Mbama as a true patriot whose service to his community,Orlu, Imo state and Nigeria at large earned him the position and confidence.
According to Nwadike, the resolve to salvage the LGA from the stranglehold of bad leaders is collective project hence, he needs technocrats and like minds to succeed.
He letter reads in part,"you have been found worthy to lead our campaign,after due consultation from stakeholders in Orlu.I am optimistic you will bring your experience to bear in ensureing success for not just our team but the entire Orlu people who earnestly yearn for purposeful leadership".
The appointment is coming barely 4 days after Independent National Electoral Commission, INEC published the final list which captured Nwadike as labour party candidate for Orlu state Assembly.
Chief Mbama is the former Chief detail of the former governor of Imo state, Chief Achike Udenwa.He retired as Assistant Diractor of State Security service,SSS.
Mbama who is a grassroots politician hails form Amaifeke,Orlu, and had served the community as President general for two consecutive terms.Due to his sterling record of achievement for the period he held sway, he was later appointed patron of the Community.
His appointment has erupted wild jubilation among Precious Nwadike supporters and Labour party members who see the soft spoken DG as an easy going person with the capacity to moblize support for not only Precious Nwadike but the Labour party and it's presidential candidate, Mr Peter Obi.
At the time of filing this report, it was not known when the campaign organization will be inaugurated but an insider source revealed that Comrade Nwadike who is highly worried about the pains and suffering of Orlu people occasioned by bereft leadership in the area is not giving anything to chance and will soon inaugurate the campaign organization and that of Orlu Restoration Movement, ORM which his also his brainchild.
Orlu restoration movement, ORM is group committed to restoring peace in Orlu.The group will be made up of mainly the clergy, community leaders and human rights activists.
NIGERIA NEWSPOINT