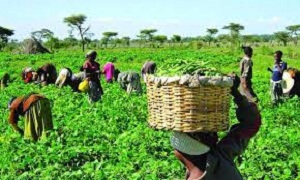 An inspirational maxim says that within every adversity lies opportunity. What that means, put differently, is that in every seeming hard situation, one could profit from it if he looks beyond the surface.
Most prosperous societies and nation today did not rise on a platter of gold. They are where they are today because they faced challenges and instead of throwing their hands up and giving up, they thought serious how to convert their challenges to opportunities. Once, they did so, those adversities were not only subdued but also provided platforms for them to rise to greatness.
In Nigeria and Imo State today high cost and scarcity of  food is one biting challenge being faced  by the citizenry. An average middle class family in the state is struggling to eat square meals a day today, while the poorest of the poor are almost feeding off  the refuse heap.
In Imo now a cup of garri is sold for one hundred naira, a cup of beans one hundred and fifty, half litre of kerosene five hundred naira, while a litre of gas sells at one thousand.
Even firewood which you would think would be affordable is now a luxury as one small stack of it goes for as high as three hundred naira.
Sadly, while these edibles and gases prices keep soaring on daily basis, disposable income of citizens keeps depreciating. For instance salary of civil servants has not experienced any increase in the last two years but food items costs have jumped through the roof.
Usually, what serious governments do at times like this is to devise strategies and plans to address such challenges in line with its basic constitutional duty of ensuring the welfare and security of the people.
Prioritizing and investing heavily in agricultural sector remains a critical strategy that government  could adopt if it is interested in changing the ugly narrative.
However, we are not seeing or hearing anything in that regard from the government of Gov Hope Uzodinma. From all indications it seems the adminstration does not even have any sort of blueprint on agriculture, as the state ministry of agriculture is almost dormant presently.
Since the advent of the 3R government one can't remember seeing or hearing  the governor launching or flagging off any agricultural policy or programme. Worse, interventions programmes and policies that were on ground before he came on board have been allowed to go moribund.
Indeed, you would not be far from the truth if you say agriculture is not in the development agenda of the government.
This is wrong. Agriculture  especially plantation agriculture used to be the mainstay of the Eastern Region which Imo is part of. It still has that potential to play that critical role today, as it is a truism that it  is not only  sure route to food security and sufficiency but also reliable path to income generation and mass employment.
Given this multiple benefits in addition to numerous other indirect values the present adminstration should rethink its present near total neglect of that goldmine. It should quickly design an agricultural revival roadmap and go ahead to muster the will to implement same for the good of the citizens and state.
Hunger and poverty are ravaging millions of Imo citizens and that constitutes a serious security risk. In fact, that is a time bomb waiting to explode.
That should not be allowed to happen and then most sustainable strategy to averting that is prioritization and massive investment in agriculture.
NIGERIA NEWSPOINT