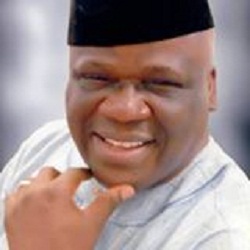 …Describes Him As A Matured Politician With Determined Direction 
National Secretary of the Peoples Democratic Party (PDP), Senator Samuel Nnaemeka Anyanwu is happy to congratulate his brother, friend and ally, Member Representing Orlu, Orsu and Oru East in the green chambers, Rt Hon Asiwaju Jerry Alagboso on the occasion of his birthday.
Anyanwu describes him as a consistent politician, so matured with determined direction.
He says that, Alagbaoso has remained reputable political maverick without loosing focus after serving his fatherland as a Custom Officer, noting that God, as the giver of power has sustained him and therefore, needs to be praised without grudges.
According to him, as representative of his people at the green chambers, Alagboso has not only displayed capacity for delivery, but carved a niche for himself as a leader to be relied upon.
He said, "Alagboso is an empowerment giants who understands the meaning of inclusive politics, and strives hard to sustain it. He is among the first set of politicians that remember home and go extra miles to put smiles on their faces"
Senator Anyanwu further urges him to join hands with party faithfuls in his immediate constituency, Orlu Zone and Imo state at large to take PDP to an enviable height, as a platform under which, his political life has blossomed.
While congratulating him, Anyanwu wishes him long life, wisdom, grace in good health, admonishing him to commit his desires in prayer, believing that soon, God will show himself mighty in his life as never before.
NIGERIA NEWSPOINT