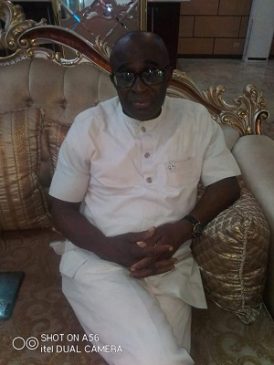 By Onyinyechi Nwankwo 
A Chieftain of the All Progressives Grand Alliance, APGA, and Frontline Governorship Aspirant for the 2023 Guber polls in Imo State, Prof Tony Mba, has assured the people of the state of better days ahead through his revitalization agenda of the agricultural sector which he said would give boost to massive employment of Imo citizens. rehabilitation of roads and healthcare centres, enhancement, promotion of commerce and industry among others when he becomes the next governor of the state.
Prof. Mba who gave the assurance during an interview with newsmen at the grand finale of Imo APGA 2022 August Women Meeting held at the party secretariat in Owerri last week promised to see to it that government returns to what it ought to be in the state where rule of law prevails, federal government allocation for important projects is managed well without any form of misappropriation and local government autonomy maintained through a periodic conduct of free and fair council election.
He noted that his vision and leadership passion to transform and restore peace and progress back to Imo propelled him to aspire for the governorship seat of the state, adding that the condition of the people in the state is a pitiable one that needs an intelligent, God fearing and credible personality like him to address and liberate the people.
"For donkey years, Imo people have been battling with the kingdom of darkness. If I am elected, I will make them enjoy more. I will work in accordance to democratic tenets, respect rule of law, abide by the constitution, install solid infrastructure, revamp agriculture, build industries or factories, create employment, build and equip state-of-the-art hospitals that are affordable and build good market structures with clean environment if I emerge the governor of Imo State in the next election".
While urging Imo people to "vote in righteousness", the Owerri born technocrat and academic mentioned that "Igbo people are not beggars. We are resourceful, godly, peace loving, charitable and easy going. Let us rise and take back our land from bad eggs who had brought darkness to the land instead of light. I will deliver because I have been tested and trusted in leadership. I was  the President in Owerri enclave for 9 years and I have also assisted Owerri people financially and morally. And I will intensify benevolence if given the opportunity".
Describing his party APGA, as a winning team which is formidable and has sincere leaders, MBA advised women to always comport themselves well, be good examplary mothers to their children, supportive wives to their husbands and great nation builders.
NIGERIA NEWSPOINT