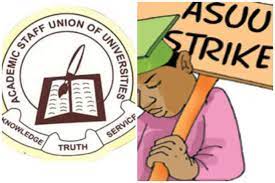 Nearly two months after , the Academic Staff Union of Universities, ASUU, Nigeria, extended  its protracted  strike action, we are being told President Buhari government, appears ready to end the strike.
Some reports on some social media platforms have suggested that at last respite may be on the way for Nigeria undergraduates and, by extension, the university system.
If this piece of information is true, then it is a good news.  Nigeria universities students have been on forced holiday  for almost six months now. Going by the structuring of the country's academic calendar at that level, that literally translates to losing  one whole academic session.
To say the least, that is colossal loss to the country, its education and all education stakeholders. Apart from  the well known fact that the unfortunate development will elongate the duration of studies of undergraduates and graduate students, the lengthy lay off will also adversely affect admission process in the university system. As we write millions of prospective admission seekers for no fault of theirs are condemned to staying at home for the next one year, assuming the strike is called off now, since universities can't admit owing to the loss of one full session.
As well as their wards and children the strike action will also hit parents hard. Prior to the strike many may  planned and budgeted  to spend for  four years only, but as it is today it is obvious they have no other option than to adjust their earlier budget.
What of the graver issue of security implications. An idle mind it is said is the devils workshop. For the six months or so that the strike has lasted, there have been reports of security breeches here and there in the country linked to youths who, most probably, are university students.
By and large ASUU strike remains an ill wind which should not have been allowed to happen in saner societies. However, being a country ruled by a seeming insensitive, obtuse and clueless government it happened and continues to linger till this day.
No matter how you view it Nigeria will ultimately be the loser at the end of the ASUU strike. Whether now, tomorrow or in the future that avoidable development will surely extract its own pound of flesh from the country's growth and development quest.  All over the world it is  a well known and accepted truism that education is the foundation of every development. Without it no society or nation can contemplate growing  and achieving anything meaningful. This, perhaps, is why it is said that no nation can develop beyond  its education.
This stark reality may have been reason the United Nations through its agency UNESCO, recommended that nations allocate 26 percent of their annual budget to education.  Developed and developing countries of the world today are marching forward in all spheres of life, mainly because they have domesticated that policy.
For failing or refusing to understand that without education no positive development can take, the present adminstration has caused more harm than good to the country. The only way the impending ugly consequences of that condemnable faux pas can be ameliorated is by quickly opening back the gates of Nigeria Universities.
On this basis therefore, we are urging the present adminstration to give in to the demands of ASUU. Those demands are not  for the welfare of teachers alone but for the general growth and development of tertiary education and by extension, the entire education sector.
The ASUU impasse is a huge national embarrassment.  Let this adminstration address it once and for all. Instead of wasting scarce resources on things that do not benefit the citizens or add value to them, the government should channel such funds to meeting universities teachers demands. The country has the money to do that so President Buhari and his adminstration should swallow their pride and rescue education in the country before it collapses completely.
A stitch in time, they say, saves nine!
NIGERIA NEWSPOINT