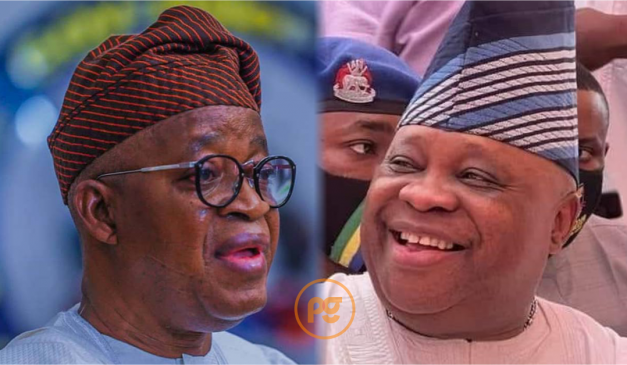 Osun State governorship election held Saturday, July 16, 2022, has come and gone.
It has been won and lost by governor elect Ademola Adeleke of PDP and Gboyega Oyetola of APC.
Unlike in the past when elections and their aftermaths were usually characterized by accusations and counter accusations, allegations and counter allegations, protests, violence, fraud and manipulation among many other negative scenarios, the Osun governorship election and its aftermath to a large extent were peaceful.
Save for few isolated cases of disturbances and disruptions that day,  the whole exercise reportedly proceeded smoothly and peacefully.  In the end it has generally   been adjudged by various  stakeholders as largely free, fair, credible and transparent.
This verdict points to one fact and it is that Nigeria may be on the road to finally getting its electoral process right.
When we eventually arrive at that destination, the country will not only begin to conduct credible  elections that will not only meet globally accepted standards but also see  to the emergence of leaders elected through the electoral  will  of the electorate of the country.
Naturally, when those elected by popular choice begin to preside over the affairs of the society, good governance will become the order of the day, as those in offices know that if they don't meet the peoples expectations, they will be shown the exit door.
That things are looking up today owes largely to the use of the recently signed  2022 Electoral Act, as against the old flaws ridden one. President Buhari a few months back signed it into law, after several years of hesitation.
He and his party were alleged to have been afraid that they will be booted out of power if the bill  was signed with the  revolutionary clause on electronic transmission of election results.
APC and its government  proved critics right when they  tried to use their majority  senators to kill that provision but, that move was stoutly resisted by twenty eight courageous  senators, among whom were three South East Senators,  Senators Enyinna Abaribe, Ezenwa Onyewuchi and Chukwuka Utazi
In the aftermath of that failed  legislative coup, Nigerians from all walks of life, raised alarm and put pressure on the president, who eventually succumbed recently and signed it into law.
And just in the wake of legalizing the use of  technology in the conduct of elections,, Nigerians are already in one accord that it may turn out to be the best thing that will ever happen to the country's democracy.
That is exactly the truth. From what we saw in Osun technology will drastically or even completely eliminate all forms of electoral malpractices and associated violence.
Those have not only been the bane of elections here, but also, that of  the country's democracy. And, if that which makes elections and the country to be a laughing stock in Africa and globally always  can be permanently fixed, it will surely  be the best thing to happen to the nation.