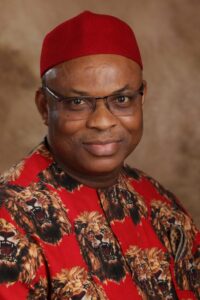 …Lauds Gov  for not being distracted by opposition
The All Progressives Congress,  APC, Owerri Zone  candidate , for the 2023 Imo East Senatorial election,  Prince Alex Mbata , has hailed the lmo State Governor,  His Excellency , Distinguished Senator Hope Uzodinma,  for  embarking on massive and solid roads' construction across the three political zones of the State, describing the development , as a very healthy one.
Mbata,  who is the founder of PAM Foundation that has positively touched the  lives of thousands of people over the years,   especially in Owerri Zone, equally commended the governor, for not allowing what he described as,  the noise of few opposition elements in the state to distract him.
He noted that,  the governor has continued to show quality leadership by embarking on people-oriented projects,  and not being discriminatory in carrying out the projects, describing the governor as a leader with large heart.
Mbata who has been described as the candidate to beat in  the 2023 Senate election in Owerri Zone,  because of all he has been able to do several  years with his FOUNDATION said, a visionless or unfocused leader would have been  distracted by the  rantings of the few opposition figures in the state,  but remarked that,  Governor Uzodinma  has refused to be distracted and the reason he has been able to achieve all he has achieved.
He added " the people of Owerri Zone are happy with the governor. The roads flagged off by the governor for construction in the zone,  are roads that have direct bearings  with the people. Our people would ever remain thankful to the governor for these roads,
" That is why , His Excellency needs to be encouraged . He needs the prayers and support of all of us. And not distraction. Owerri Zone People are known for appreciting achievements and genuine efforts.   They are not known for thuggery,
" We shall continue to support and pray for the Governor. He has done  very well.  People should be able to detach politics from governance or leadership. Gov. Uzodinma is giving lmo people passionate leadership or governance.  When the time for politics comes,  he would also play it " he stated.
According to him, governor Uzodinma should be commended and appreciated by every patriotic citizen of lmo state,  adding that lmo people are known for patriotism and love for their genuine leaders like Uzodinma.