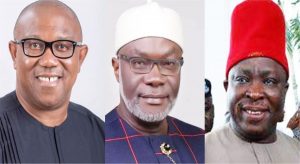 With the emergence of  Chief Peter Obi as the Presidential candidate of the Labour Party, LP,  ahead of the 2023 general elections, a gale of defections apparently looms in the major political parties in the South East as many Aspirants who lost out during the just concluded primaries of the major parties have either defected to the Labour Party or have started making subterranean moves to join.
Obi, a former Governor of Anambra State, left the Peoples Democratic Party, PDP, a couple of days before the party's Presidential primary to pitch tent with the Labour Party.
Following Obi's dumping of PDP,  momentum has shifted to the Labour Party with some prominent politicians dumping their former political parties including  Peoples Democratic People,PDP,All Progressives Congress, APC,  All Progressives Grand Alliance, APGA, among others, for the Labour Party.
In Anambrastate, Senator Victor Umeh has dumped his former party, APGA, for the Labour Party.
Umeh's decision came after he was said to have been denied the ticket of APGA to vie for the Anambra Central senatorial seat for the 2023 general elections.
He has already been nominated senatorial candidate of the Labour Party for Anambra Central.
In Imo, indications are rife that Senator Ezenwa Francis Onyewuchi who currently represents Imo East in the Senate on the platform of PDP, is believed to be  positioning to  clinch the Labour Party ticket for Imo East senatorial district following Hon Uche Onyeagucha's triumph during the recently held Imo PDP primaries.
Another notable Imo politician, Hon Uche Ogbuagu who currently represents Ikeduru state
constituency in the state Assembly, is equally believed to be bidding his time preparatory to a possible candidacy of the party for Mbaike Federal constituency seat in 2023.
Hon Ogbuagu, a celebrated comedian turned politician, was said to have withdrawn from APC primary for Mbaitoli/Ikeduru Federal Constituency, Imo State, citing alleged lack of level playing ground.
More politicians are expected to join the Labour Party  in the coming weeks as support for the party continues to soar with  Obi's wide acceptability across Nigeria.
Some of the politicians eyeing LP's tickets are believed to have already positioned their fronts in the party to temporarily hold the nomination tickets with the intention of taking the tickets back once the substitution window opens; and by which time they must have also formalised their membership of LP.
There are further indications that there could be a repeat of the 2011 scenario during the general elections in Imo  State where good number of  Greenhorns won seats in the state House of Assembly leveraging the popularity of APGA and its gubernatorial candidate.
Meanwhile, the record of leaving their Political platforms for LP are: Hon. Pascal Obi, Ezenwa Onyewuchi, Okorondu Nwachukwu, and Charles Ahize(Akpuruka N'Orlu).
Others include: Darlington Amaechi, Mathew Nwogu, Jeff Ojinika, Precious Nwadike,C ollins ILoh, Austin Nwachukwu,and Obinna Odowuike.
Also Tochukwu Okere, Nwaugo Ozurumba and Chikwem Onuoha.
NIGERIA NEWSPOINT