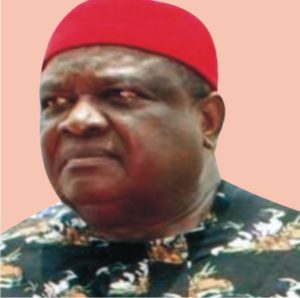 …Flays moves to truncate agreement between the two sister LGAs
A revered elder statesman and nationalist, Chief Emmanuel Iwuanyanwu (Ahaejiagamba) has condemned in strong terms the moves by Hon. Henry Nwawuba and his accomplices to truncate a gentleman agreement between the two Local Governments of Mbaitoli/Ikeduru regarding the seat of House of Representatives.
Chief Iwuanyanwu, also known as Ahaejiagamba Ndigbo therefore ruled out the argument that there was an existing third term in Mbaike Federal Constituency, adding that Mbaitoli had gotten its share of the gentlemanly agreement when Hon Uche Nwole and the incumbent, Hon Nwawuba represented the constituency for twelve years of one term and two terms, respectively.
According to him, Ikeduru had its own turn  through late Hon Bethel Amadi who initially served one term before the leaders of both LGAs came together in resolution that their representatives would serve for only two terms of eight years to stand the chance of being a ranking member.
He said that "this new agreement paved way for late Hon Amadi to start a fresh term to meet up with the agreement. Apart from his earlier first term before the agreement ensued, leaders of Ikeduru came together and gave him a go ahead to complete the remaining terms to enable their sister LGA, Mbaitoli take over. The outcome of the resolution led to the election of the incumbent, Hon Nwawuba from Mbaitoli in 2015 and to be completed in 2023", Iwuanyanwu stated.
Chief Iwuanyanwu, an industrialist made this disclosure Tuesday, May 10, while receiving in audience leaders and critical stakeholders of both Mbaitoli/Ikeduru Federal constituency led by, Chiefs Ugochukwu Nnawuihe, and Emma Kema in Owerri.
He  further warned that such moves by some ill informed individuals to thwart the agreement is capable of bringing disunity between leaders of the two LGAs, warning those behind the push to allow the decision of the people prevail.
Ahaejiagamba Ndi Igbo went down memory lane on the need for the unity of the Igbo irrespective of their interest, identified greed and inconsistency in governance as the  main cause of  underdevelopment in the zone.
Chief Iwuanyanwu    also called on all igbo  people both at home and in Diaspora to join hands to develop the South East, rather than trying to protect personal benefit at the detriment of the masses.
The great nationalist therefore expressed annoyance and disappointment over the behaviour of those representing the people in various positions, accusing them of selfishness and negligence of the people that genuinely elected them.
The Statesman therefore frowned at the habit of some elected office holders who only pick few jobless individuals and pay them peanuts as salaries, and wondered how individuals in their sanity could jump around supporting them for outrightly abandoning the society.
"It is wrong that those we elected are going around selecting jobless people and giving them peanuts as salaries. The worse of it all is that non of these people selected could boast of any meaningful thing in the society. Our Federal constituency lacks proper development when we have those representing us for more than six years. "It is a shame that upon all these negligence, few individuals will be jumping up and down all over electronic, print and social media singing unholy praises for them while majority of our people continue to suffer without any noticable developmental projects" Iwuanyanwu fumed.
Chief Iwuanyanwu regretted that instead of developing Mbaike federal constituency, those elected were busy enriching themselves more and more, believing that they would buy the people with money.
Ahaejiagamba promised to call a larger meeting of the clergy, Ezes, Chiefs, leaders, women, students and the youths etc, immediately the primaries of various political parties were over, saying that he would no longer keep quiet to behold iniquity in Mbaike.
Responding, Chief Ugochukwu Nnawuihe on behalf of Mbaitoli/Ikeduru leadership Forum thanked, Ahaejiagamba Ndi Igbo for his examplary and qualitative leadership roles in the Federal constituency, assuring him of the peoples resolve to continue to adhere to his fatherly advice for the good of the constituency and the society at large.