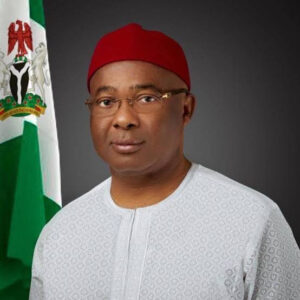 An Aspirant For Ezinihitte Mbaise State House Of Assembly Seat in Imo State, Hon Henry Osondu Chukwuma Nnorom has congratulated the state Governor, Senator Hope Uzodimma for Successful Conduct of National Convention Of All Progressives Congress (APC)
Hon Nnorom who disclosed this to journalists in Owerri described Governor Uzodinma as a true Democrat who understand how due process truly work.
"His conduct at the just concluded APC Convention shows truly he has the capacity to lead imo state beyond"
Nnorom called for improvement come next convention, adding that more provision of outdoor potty system should positioned well for easy movement of the delegates.
When ask about how he plans to show capacity in Ezinihitte Mbaise if being elected,he responded by saying "I see a lot of people throw around the word capacity without fully knowing what it means.Capacity is beyond Bank Balance.Capacity is truly who has been groomed for the state representative and who is ready to draft legislation bills that will improve the life of imo citizens.
Capacity is who has the know-how and connection to attract investment to Ezinihitte Mbaise.
We need investors in imo state,we need jobs and most of we need to divert the attention of our youths to more enterprising endeavors.
He continue by saying I would like that our youths"BITCHALISE" our politicians, hold them accountable, get engaged in the process if you want the power to come from people then the people must learn how to put and elect their own candidates in office. If youths learn to say no to big money but simply tell them to attract investment with it, our lives will be a different story no more blaming the Government for this and that.I think i am the man for the job in Ezinihitte Mbaise.