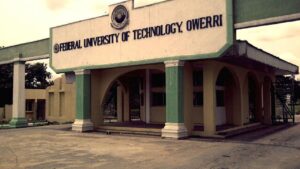 By Ifeanyi Ndukwe
The Attorney of the  FUTO Host Communities, Chief Sam Anokam has stated that they will actually acquire justice at the end of their matter with the Federal University of Technology Owerri (FUTO). He made this known to newsmen while clearing the air in some certain issues, recently.
Chief Anokam noted that he has the mandate of the FUTO host communities to pursue the matter of incomplete acquisition of land by FUTO, adding that he is following the issue through due process.
He alleged that some group of people have told the traditional rulers of the host communities to back out from him on the matter which they didn't do according to him, he also noted that he was determined to achieve success on the matter.
" This is the matter I have been putting my personal money, energy and time as a matter of fact, I must do my best to get justice as it is coming to an end" Anokam submitted.
FUTO HOST COMMUNITIES DISPUTE:
JUSTICE MUST BE DONE______ ANOKAM
INSIST THAT NO BODY CAN BUY HIM OVER.