Chidiebube Okeoma, Owerri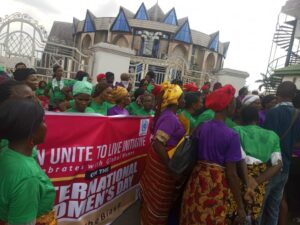 Scores of women on Tuesday stormed the Imo government in Owerri, demanding an immediate end to all kinds of rites and customs affecting the growth of the girl child.
The women who bore placards, marched from the control post junction to the government entrance gate, faulted the federal government for failing to pass gender related bills recently at the national Assembly.
They also called on the Federal Government and Academic Staff Union of Universities to speedily still their differences so that university students can go back to their schools.
President of Women Unite to Live Initiative, Nigeria, Chika Nwachukwu, who led the women during the protest, also urged the government of the state, deepen democracy by building basic amenities to end the plights of rural women in the state.
Nwachukwu, said that the Nigerian women had the capacity to compete favourably with their counterparts if equal opportunities were provided.
The woman activist said " use the 2022 International Women's Day with the theme #BreakingTheBias to ponder on the place of a typical African Woman.
There is this clarion call for all nations to rise against all forms of unfairness which inhibit women from utilizing their potentials for self-realization, socio-political and economic advancement and general well-being at the various communities, workplaces, schools, colleges and universities.
However, #BreakingTheBias begins with us women as we need to look inward and motivate one another to make a good society. In the words of the great Napoleon, "Give me good mothers and I will give you a good nation". Similarly, Mary Wollstonecraft said, "I do not wish women to have power over men, but over themselves" hence if we can come together and encourage intergenerational mentorship, the societal values epitomized by good moral standard shall be restored.
"We must agree and work together, just as the bible in Ecclesiastes 4:9, that "Two are better than one; because they have a good reward for their labor". Iron sharpeneth iron, it is said, hence, we can begin by helping ourselves with our skills.
Women Unite to Live Initiative, a registered non-political/non-ethnic/non-religious women group (RC CAC/IT/NO 85892), with an overarching objective of promoting and protecting the rights of women and Girls in the society, continues to utilize occasions like this to propagate the message for an inclusive world where Nigerian women will have the opportunity to contribute their quota in the socio-economic development of the society.
"A typical African woman performs the role of wife, partner, organizer, administrator, director, re-creator, disburser, economist, mother, disciplinarian, teacher, health officer, artist and queen in the family at the same time. Why have our mothers abandoned their parental duties to teachers who have limited time with them, all in the name of boarding? Such situations have become very worrisome especially in this internet age where students are now modeled by what they watch on their phones during off school hours in their respective hostels.
Thus, the high rate of morale decadence among young girls who now engage and even spearhead crimes that were hitherto regarded as male-related offences such as cultism, prostitution, kidnapping, armed robbery, and ritual killings."
"Our young girls in Tertiary Institutions continue to be the worst hit in the incessant strike of Academic Staff Union of Universities (ASUU). Many of these young girls waste their years of marriage and other useful life endeavors as undergraduates due to prolonged strike. We all know that men can marry at any age but definitely not women. Where do we go from here?
"While we commend Government for the signing of the Electoral Bill into Law, full implementation of the bill should be strictly observed to guarantee credibility in our electoral processes.
"We once again unequivocally condemn money-politics as we pray and march into a glorious nation. We cannot continue to watch our generations embrace hardship as way of life, while their contemporaries in developed nations are advancing in all aspects of life endeavor."
The deputy governor of the state, Prof Placid Njoku, assured the women that the state government would look into their demands with intension to solving the ones that are within the purview of the state government.