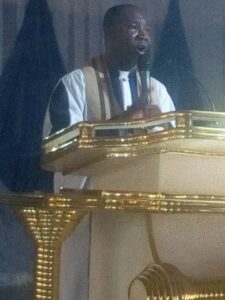 Rev. Divine Eches, incubent Chairman Christian Association of  Nigeria, Imo State Chapter has been installed by the leadership of Evangelical Church Winning All, (ECWA) as the Chairman of Umuahia District Church Council, comprising of churches in  Abia and Imo States
The installation of Rev Eches and members of his executive took place at ECWA church at Prefab Housing Estate Owerri.
Speaking during the program, Rev Eches described his consecration and installation as a call to serve and promised to discharge his duties with diligence, compassion and accountability.
He assured the members and leadership of the church that he will do his best to bring about revival, spiritual upliftment, developmental projects, investments and human capacity building, maximum attention to pastors welfare and will fully be responsible and responsive to the  District Church in particular and the church in general.
The new position  is equivalent to the position of an Arch Bishop as   he presides over the affairs of ECWA churches in Abia and IMO States
Convinced of the enormous responsibilities attached to his new position, Rev Echoes promised to be the bridge between the old and new generation and appealed to every member of the church to support the new executive to enable them discharge their duties effectively and efficiently without obstacles
Admonishing the newly installed Executives of Umuahia District Church Council, the General Secretary of ECWA, Rev Yanusa Nmadu charged them to rise up to challenges of leadership.
He stressed the need for them to be active and productive in order to move the church from where it is now to where it ought to be.
In his closing remarks, the Board of Trustee Chairman of ECWA Prof Basil Nwosu called on the new installed Executives to eork extra mile to ensure growth of the church and endeavour to produce more districts .
He described ECWA Secretary as a man of dependability. a true servant of God and a blessing to ECWA Community
The BOT Chairman who rated the immediate past executive high also called on the church members to give the new executive undiluted and maximum support.
It was a well attended event that attracted Dignitaries within and outside Imo State