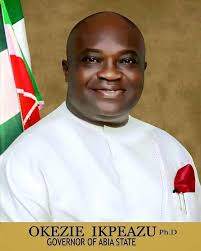 Governor Okezie Ikpeazu says, the resounding victory of the PDP in Saturday's bye election for the Aba North and Aba South Federal Constituency is a clear vindication of the hardwork his administration has put into the repositioning of Aba.
In his official response to the victory of Hon. Chimaobi Ebisike of the PDP in the bye election, the Governor stated that the bye-election was a first hand opportunity for the people of Aba to pass judgment on the efforts of his administration in rebuilding the broken walls of the Enyimba City.
The Governor who spoke through Onyebuchi Ememanka, his Chief Press Secretary expressed his gratitude to God for making the victory possible.
"For all intents and purposes, this election was more appropriately, a referendum by the people of Aba on our work in the city. Our government has invested lots of effort in providing critical infrastructure in Aba and it is heartwarming to see that indeed, the people truly appreciate our efforts. It is also a clear message that our people detest injustice.
"The people of Aba completely endorsed our message that it was only just, fair and proper to allow the aborigines of Aba an opportunity to represent their own people for the first time in 22 years of our democracy at the National Assembly", the governor said.
While congratulating the wunner, Chimaobi Ebisike, Ikpeazu observed "It is a massive privilege to be called upon to serve your own people" and advised him to "appreciate the historic nature of his election and what it means for the people of Aba.
"He must remain humble and work with dedication in the interest of the people of Aba. He must learn from his forebearers at the National Assembly, especially those who have made their people proud. He must prove that indeed, the aborigines of Aba have all it takes to serve their fatherland well. He must also show that Aba is a home for all by carrying everyone alone along", the governor advised
According to Ikpeazu "This victory confirms that indeed, PDP remains the party of choice in Abia State", adding "the outcome of this election is a clear message that the days of unproductive family oligarchies are gone in Abia State".